pivot

piv·ot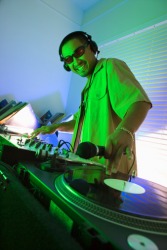 A DJ pivoting a record to make music.
noun
The definition of a pivot is a central point around which something turns.

The center axle on your car tire around which the wheel turns is an example of the pivot.
verb
To pivot is to turn or spin around a center point.

When you spin on your heels, this is an example of a time when you pivot.
---
pivot
a point, shaft, pin, etc. on which something turns
a person or thing on or around which something turns or depends, etc.; central point
a pivoting movement
Origin of pivot
Fr, probably akin to Provençal
pua,
tooth of a comb
to provide with, attach by, or mount on a pivot or pivots
to turn on or as if on a pivot
---
pivot
noun
A short rod or shaft on which a related part rotates or swings.
A person or thing on which something depends; the central or crucial factor: "The pivot of the whole affair was the stupidity of some admiral" ( Joseph Conrad )
The act of turning on a pivot.

a. A person around which a formation of marching people turns.

b. Sports A player who plays at the center of the offense.

Basketball

a. A position taken by an offensive player usually facing away from the basket near the foul line to relay passes, attempt a shot, or set screens.

b. The stationary foot around which the ball handler is allowed to pivot without dribbling.
verb
piv·ot·ed, piv·ot·ing, piv·ots
verb
transitive
To mount on, attach by, or provide with a pivot or pivots.
To cause to rotate, revolve, or turn: pivoted the telescope toward the island.
verb
intransitive
To turn on a pivot.
To depend or be centered: "The plot … lacks direction, pivoting on Hamlet's incertitude" ( G. Wilson Knight )
Origin of pivot
French
from
Old French
perhaps akin to
Catalan
piu
pivot
perhaps from
piu
chirp
(
from the creaking sounds made by something turning on a pivot
)
Related Forms:
---
pivot

Noun
(plural pivots)
A thing on which something turns; specifically a metal pointed pin or short shaft in machinery, such as the end of an axle or spindle.
Something or someone having a paramount significance in a certain situation.
Act of turning on one foot.
(military) The officer or soldier who simply turns in his place while the company or line moves around him in wheeling.
(roller derby) A player in with responsibility for co-ordinating their team in a particular jam.
(computing) An element of a set to be sorted that is chosen as a midpoint, so as to divide the other elements into two groups to be dealt with recursively.
Verb
(third-person singular simple present pivots, present participle pivoting, simple past and past participle pivoted)
(intransitive) To turn on an exact spot.
---