noun
The definition of a pin is something small used for holding things together or for support.

An example of a pin is what women use to hold their hair in up-do hairstyles.
An example of a pin is what you would use to attach a piece of paper to a corkboard.
verb
Pin is defined as to fasten or attach two of more things together.

An example of to pin is a seamstress attaching two pieces of fabric together before sewing them.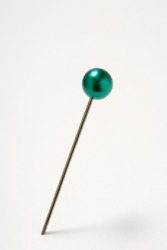 A straight pin.
---
pin
noun
a peg of wood, metal, etc., used esp. for fastening or holding things together or as a support on which to hang things
a little piece of stiff wire with a pointed end and a flattened or rounded head, used for fastening things together or holding them in place; straight pin
something worthless or insignificant; trifle
a pointed instrument for holding the hair, a hat, etc. in place
clothespin, safety pin, cotter pin, etc.
anything like a pin in form, use, etc.
an ornament, badge, or emblem having a pin or clasp with which it is fastened to the clothing

Informal

the leg: usually used in pl.

Bowling

any of the bottle-shaped pieces of wood, or wood coated with plastic, at which the ball is rolled

Golf

a pole with a flag attached, placed in the hole of a green to mark its location

Med.

a metal rod used to hold a broken bone together

Music

any of the pegs for regulating the tension of the strings of a piano, harp, etc.

Naut.

thole
any of various pegs or rods used to secure ropes

Wrestling

fall ()
Origin of pin
Middle English
pyn
; from Old English
pinn,
akin to Middle High German
pfinne,
a nail, probably ; from Indo-European base an unverified form
bend-,
projecting point from source Middle Irish
benn,
peak
pin down
to get (someone) to make a decision, commitment, etc.
to determine or confirm (a fact, details, etc.)
pin someone's ears back
☆
Informal
to beat, defeat, or scold someone soundly
pin something on someone
Informal
to lay the blame for something on someone
noun
an identification number entered on a keypad in order to gain access to a computer, ATM, etc.
Origin of PIN
p(ersonal) i(dentification) n(umber)
---
pin
noun
a. A short, straight, stiff piece of wire with a blunt head and a sharp point, used especially for fastening.

b. Something, such as a safety pin, that resembles such a piece of wire in shape or use.

c. A whit; a jot: didn't care a pin about the matter.

A slender, usually cylindrical piece of wood or metal for holding or fastening parts together, or serving as a support for suspending one thing from another, as:

a. A thin rod for securing the ends of fractured bones.

b. A peg for fixing the crown to the root of a tooth.

c. A cotter pin.

d. The part of a key stem entering a lock.

e. Music One of the pegs securing the strings and regulating their tension on a stringed instrument.

f. Nautical A belaying pin.

g. Nautical A thole pin.

An ornament fastened to clothing by means of a clasp.
A rolling pin.
Sports

a. One of the wooden clubs at which the ball is aimed in bowling.

b. A flagstick.

pins Informal The legs: is steady on his pins.
Electronics A lead on a device that plugs into a socket to connect the device to a system.
Computers

a. Any of the pegs on the platen of a printer, which engage holes at the edges of paper.

b. Any of the styluses that form a dot matrix on a printer.

c. Any of the small metal prongs at the end of a connector that fit into the holes in a port.
transitive verb
pinned
pinned
,
pin·ning
,
pins
To fasten or secure with or as if with a pin or pins.
To transfix.
To place in a position of trusting dependence: He pinned his faith on an absurdity.

a. To hold fast; immobilize: He was pinned under the wreckage of the truck.

b. Sports To win a fall from in wrestling.

To give (a woman) a fraternity pin in token of attachment.
adjective
Having a grain suggestive of the heads of pins. Used of leather.
Phrasal Verbs:
pin down
To fix or establish clearly:
She pinned down the cause of the accident.
To force (someone) to give firm opinions or precise information:
The reporter pinned the governor down on the issue of taxes.
pin on
To attribute (a crime) to (someone):
The murder was pinned on the wrong suspect.
Origin of pin
Middle English, from Old English
pinn
, perhaps from Latin
pinna
,
feather
; see
pet-
in Indo-European roots.
abbreviation
personal identification number
---
pin
---
pin - Computer Definition
A type of diode used as a light detector in optical transmission systems. A PIN comprises three layers of semiconducting material in the forward current-carrying direction. The first layer is chemically doped, i.e., infused with impurities, to create a positive (p) electromagnetic region.The second layer is either undoped or lightly doped to retain its intrinsic (i) properties and, therefore, is neither strongly positive nor strongly negative. The third layer is doped to create a negative (n) electromagnetic region. So, the diode structure is Positive, Intrinsic, and Negative, or PIN. A PIN generates a single electron from each photon received and, therefore, does not provide a significant gain, or increase in signal strength. However, PINs are fairly rugged and inexpensive. PINs generally are matched with light-emitting diode (LED) and vertical cavity surface-emitting laser (VCSEL) light sources and multimode (MMF) glass optical fiber (GOF) or plastic optical fiber (POF) in relatively low speed, short haul fiber optic transmission systems (FOTS). See also diode, dopant, FOTS, GOF, laser diode, LED, light detector, MMF, POF, and VCSEL.
---
(1) The male lead on a chip or cable connector. Each pin is plugged into its female counterpart to complete the circuit. The number of pins reflects the number of wires, or pathways, that carry signals. See plugs and sockets.
(2) (PIN) (Personal Identification Number) A type of password used for authentication. Typically four to six digits, the PIN is used to authenticate ATM and debit cards. The PIN may be the only authentication mechanism required, or it may be used with another password.
(3) To place an object onto a home screen or home page. For example, in Windows 8 and Windows Phone, "Pin to Start" means to place an application icon onto the Start screen. See Pinterest.
(4) (PIN) (Processor Independent NetWare) A version of NetWare 4.1 designed for portability to multiple platforms. Development was stopped in early 1995.
---
pin - Investment & Finance Definition
---