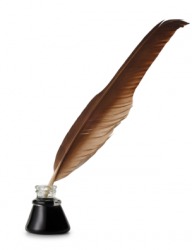 A quill being used as a pen.
noun
The definition of a quill is a stiff feather in a bird's wing or tail, the hollow stem of a feather or the spines from a porcupine.

An example of a quill is what people used for writing with ink before metal pen tips were invented.
---
quill
any of the large, stiff wing or tail feathers of a bird
the hollow, horny stem of a feather; calamus
any of the spines of a porcupine or hedgehog
any of various things made from the quill of a feather, specif., a pen for writing
a musical pipe made of a hollow stem, reed, or cane
a weaver's spindle or bobbin
a hollow shaft in certain mechanical devices

Pharmacy

a small roll of dried bark, as of cinchona, cinnamon, etc.
Origin of quill
Middle English
quil,
hollow stalk, weaver's quill, probably from Middle Low German or MDu, as in Low German
quiele,
quill of a feather from uncertain or unknown; perhaps Indo-European base an unverified form
gwel-,
to stick, stab
to form with or into quillings
to wind (thread or yarn) on a quill (sense )
to cover or pierce with quills, as of a porcupine
---
quill
noun
The hollow stemlike main shaft of a feather. Also called calamus .
Any of the larger wing or tail feathers of a bird.
A writing pen made from the shaft of a feather.
Music

a. A plectrum for a stringed instrument of the clavichord type.

b. A pipe having a hollow stem.

A toothpick made from the stem of a feather.
One of the sharp hollow spines of a porcupine or hedgehog.
A spindle or bobbin around which yarn is wound in weaving.
A hollow shaft that rotates on a solid shaft when gears are engaged.
verb
quilled, quill·ing, quills
verb
transitive
To wind (thread or yarn) onto a quill.
To make or press small ridges in (fabric).
verb
intransitive
To practice the art or craft of quilling.
Origin of quill
Middle English
quil
---
quill

---