interjection
Ouch is defined as a way to express pain.

When someone steps on a piece of glass, their exclamation is an example of ouch.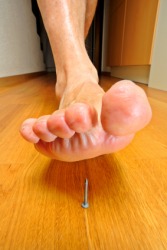 This person is about to say ouch!
---
ouch definition by Webster's New World
☆
interjection
used to express sudden pain
Origin: echoic of natural cry
noun
a clasp or buckle; specif., an ornament with a clasp, esp. when set with precious stones
a setting for a precious stone
Origin: ; from Middle English (a n)ouche ; from Old French nousche ; from Frankish an unverified form nuskja, brooch, akin to Old High German nusca, a clasp ; from Indo-European base an unverified form ned-, to twist together from source net
transitive verb
Archaic
to ornament as with ouches
Webster's New World College Dictionary Copyright © 2010 by Wiley Publishing, Inc., Cleveland, Ohio. Used by arrangement with John Wiley & Sons, Inc.
---
ouch definition by American Heritage Dictionary
interjection
Used to express sudden pain or displeasure.
noun
A setting for a precious stone.
A brooch or buckle set with jewels.
Obsolete A clasp; a brooch.
Origin: Middle English ouche, from Anglo-Norman (une) ouche, alteration of (une) nouch, (a) brooch, of Germanic origin; see ned- in Indo-European roots.