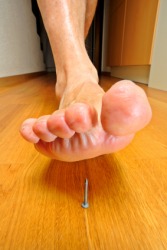 This person is about to say ouch!
interjection
Ouch is defined as a way to express pain.

When someone steps on a piece of glass, their exclamation is an example of ouch.
---
ouch
used to express sudden pain
a clasp or buckle; specif., an ornament with a clasp, esp. when set with precious stones
a setting for a precious stone
Origin of ouch
from Middle English
(a n)ouche
from Old French
nousche
from Frankish an unverified form
nuskja,
brooch, akin to Old High German
nusca,
a clasp from Indo-European base an unverified form
ned-,
to twist together from source net
Archaic
to ornament as with ouches
---
ouch
interjection
Used to express sudden pain or displeasure.
noun
Obsolete
A setting for a precious stone.
A clasp or brooch, especially one set with jewels.
Origin of ouch
Middle English
ouche
from
Anglo-Norman
(une) ouche
alteration of
(une) nouch
(a) brooch
of Germanic origin
; see
ned-
in Indo-European roots.
ouch2
amethyst and diamond brooch
---
ouch

Interjection
An expression of one's own physical pain.

Ouch! You stepped on my toe! That hurt!

An expression in sympathy at another's pain.

Ouch! Her sunburn looks awful.

A reply to an insult (frequently one that is tongue-in-cheek or joking).

Ouch. How could you say that?

An expression of disappointment.

Ouch, I really wanted to do that.

(slang, Australia, New Zealand, UK) Expressing surprise at the high price of something.

Ouch, one hundred thousand dollars for a car! I could never afford that!
Noun
(plural ouches)
Alternative form of ouche.
---