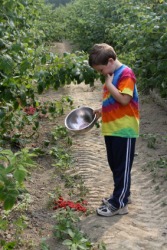 Oops! This kid has dropped his berries.
---
oops
interjection
used to express sudden or surprised dismay, or, sometimes, implied apology, after one has blundered, tripped, broken something, misspoken, etc.
---
oops
---
oops
Interjection
Acknowledging a minor mistake.

Oops! I left the lid off the ketchup.

Used sarcastically to acknowledge a major mistake.

I just stood on dog poo! Oops!
I just ran over a squirrel. Oops!
Oops, I didn't see you there.
Origin
A presumably 'natural' exclamation, only attested since 1933, possibly altered to (from) whoops (attested since 1933)
---
oops - Computer Definition
---