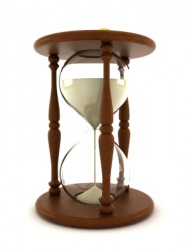 An hourglass.
---
hourglass definition by Webster's New World
noun
an instrument for measuring time by the trickling of sand, mercury, water, etc. through a small opening from one glass bulb to another below it, in a fixed period of time, esp. one hour
Webster's New World College Dictionary Copyright © 2010 by Wiley Publishing, Inc., Cleveland, Ohio. Used by arrangement with John Wiley & Sons, Inc.
---
hourglass definition by American Heritage Dictionary
noun
An instrument for measuring time, consisting of two glass chambers connected by a narrow neck and containing a quantity of sand, mercury, or another flowing substance that trickles from the upper chamber to the lower in a fixed amount of time, often one hour.
adjective
Shaped like an hourglass: an hourglass design; an hourglass figure.
The American Heritage® Dictionary of the English Language, 4th edition Copyright © 2010 by Houghton Mifflin Harcourt Publishing Company. Published by Houghton Mifflin Harcourt Publishing Company. All rights reserved.
---
hourglass - Computer Definition
An icon that is commonly used on graphical interfaces to mean "wait until finished." When the hourglass icon appears, you cannot do anything within that part of the application until that task has completed and the hourglass goes away. An hourglass is a centuries-old device for counting time. It consists of two glass chambers attached to each other via a tiny opening. Half filled with sand, when the hourglass is turned over, the sand falls from one chamber to the other. The amount of sand and size of chambers and opening are precisely measured so that when all the sand from one side falls to the other, a certain amount of time has passed. See hourglassing.