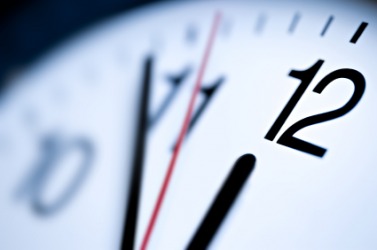 Hands of a clock approaching the hour.
noun
The definition of an hour is sixty minutes, or a period of time.

An example of an hour is the time that passes between 4 and 5 o'clock.
An example of an hour is the dinner hour.
---
hour
a division of time, one of the twenty-four parts of a day; sixty minutes
one of the twelve points on a clock, watch, etc. marking the beginning or end of such a division: the ninth hour

a point or period of time; specif.,

a fixed point or period of time for a particular activity, occasion, etc.: the dinner hour
an indefinite period of time of a specified kind: his finest hour
[pl.] a period fixed for work, receiving patients, etc.: office hours from 2 to 5
[pl.] the usual times for getting up or going to bed: to keep late hours

the time of day as indicated by a timepiece: the hour is 4:30
[pl.] the time of day as reckoned in military time: used following the four-digit numeral: departure is scheduled for 0100 hours

a measure of the distance usually covered in an hour: two hours from New York to Philadelphia by rail

Astron.

a sidereal hour; angular unit equaling 15° measured along the celestial equator

Eccles.

a canonical hour or the prayers said at that time

Educ.

a class session of approximately one hour: typically used in determining a unit of academic credit
Origin of hour
Middle English from Old French
hore
from Classical Latin
hora
from Classical Greek
h?ra
, hour, time, period, season from Indo-European base an unverified form
y?-
, year, summer ( from an unverified form
ei-
, to go) from source year
after hours
after the regular hours for business, school, etc.
bottom (or top) of the hour
see bottom of the hour, top of the hour
hour after hour
every hour or for many successive hours
of the hour
most prominent at this time
on the hour
at the beginning of any or each of the twenty-four divisions of the day; at noon, 1:00, 2:00, etc.: news is broadcast every hour on the hour
---
hour
noun
One of the 24 equal parts of a day.

a. One of the points on a timepiece marking off 12 or 24 successive intervals of 60 minutes, from midnight to noon and noon to midnight or from midnight to midnight.

b. The time of day indicated by a 12-hour clock.

c. hours The time of day determined on a 24-hour basis: 1730 hours is 5:30 PM.

A unit of measure of longitude or right ascension, equal to 15° or 124 of a great circle.

a. A customary or fixed time: the dinner hour.

b. hours A set or customary period of time for a specified activity: banking hours.

a. A particular time: their hour of need.

b. A significant time: Her hour had come.

c. The present time: the man of the hour.

a. The work that can be accomplished in an hour.

b. The distance that can be traveled in an hour.

a. A single session of a school day or class.

b. A credit hour.

hours Ecclesiastical The canonical hours.
Origin of hour
Middle English
from
Old French
houre
from
Latin
hōra
from
Greek
hōrā
season, time
; see
yēr-
in Indo-European roots.
---
hour

Noun
(plural hours)
(poetic) The time.

The hour grows late and I must go home.

(military, in the plural) Used after a two-digit hour and a two-digit minute to indicate time.
Origin
Middle English houre, oure, from Anglo-Norman houre, from Old French houre, (h)ore, from Latin hōra ("hour"), from Ancient Greek ὥρα (hōrā, "any time or period, whether of the year, month, or day"), from Proto-Indo-European *yer-, *yor- ("year, season"). Akin to Old English ġēar ("year"). Displaced native Middle English stunde, stound ("hour, moment, stound") (from Old English stund ("hour, time, moment")), Middle English ȝetid, tid ("hour, time") (from Old English *ġetīd, compare Old Saxon getīd ("hour, time").
---