invitation

in·vi·ta·tion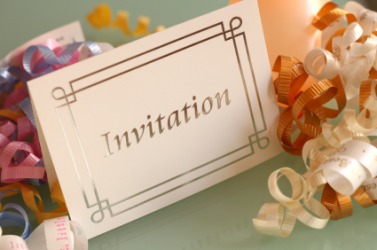 A party invitation.
noun
The definition of an invitation is a request for a person's attendance at an event.

An example of an invitation is a printed card asking family and friends to come to the sender's wedding.
---
invitation
an inviting to come somewhere or do something
the message or note used in inviting
enticement or allurement
Origin of invitation
Classical Latin
invitatio
from past participle of
invitare
---
invitation
noun
The act of inviting.
A spoken or written request for someone's presence or participation.
An allurement, enticement, or attraction.
See altar call.
---
invitation

Noun
(plural invitations)
The act of inviting; solicitation; the requesting of a person's company.

an invitation to a party, to a dinner, or to visit a friend

A document written or printed, or spoken words, conveying the message by which one is invited.
Allurement; enticement.
(fencing) A line that is intentionally left open to encourage the opponent to attack.
Origin
From Middle French invitation, from Latin invitatio
---