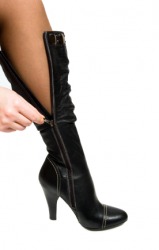 A woman undoing her boots.
verb
Undo is defined as to release, reverse or put an end to.

An example of undo is unzipping a dress in order to take it off.
An example of undo is a drug addict using drugs after being sober for many years.
An example of undo is bringing disgrace to a formerly well-thought of family.
---
undo
transitive verb
-·did′

,

-·done′

,

-·do′ing
to release or untie (a fastening)
to open (a parcel, door, etc.) by this means

to reverse the doing of (something accomplished); do away with; cancel; annul
to put an end to; bring to ruin, disgrace, or downfall
to upset emotionally; perturb

Obs.

to interpret; explain
Origin of undo
Middle English
undon
from Old English from
un-,
un- +
don,
to do
---
undo
verb
un·did, un·done, un·do·ing, un·does,
verb
transitive
To reverse or erase; annul: impossible to undo the suffering caused by the war.
To untie, disassemble, or loosen: undo a shoelace.
To open (a parcel, for example); unwrap.

a. To cause the ruin or downfall of; destroy.

b. To throw into confusion; unsettle.
verb
intransitive
To come open or unfastened.
Related Forms:
---
undo

Verb
(third-person singular simple present undoes, present participle undoing, simple past undid, past participle undone)
To reverse the effects of an action. syn.

Fortunately, we can undo most of the damage to the system by the war.

To unfasten. ant. syn.

Could you undo my buckle for me?
---
undo - Computer Definition
To restore the last editing operation that has taken place. For example, if a segment of text has been deleted or changed, performing an undo will restore the original text. Programs may have several levels of undo, including being able to reconstruct the original data for all edits performed in the current session. See redo and undo send.
---