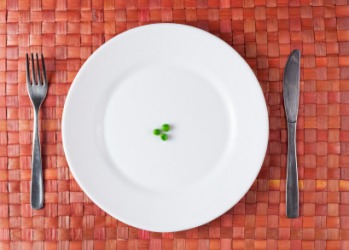 A paltry serving of peas.
adjective
The definition of paltry is a small or meager amount, or is something insignificant.

An example of something that would be described as paltry is a serving of food that is only half a teaspoon.
---
paltry
adjective
-·trier

,

-·tri·est
practically worthless; trifling; insignificant; contemptible; petty
Origin of paltry
probably from Low German
paltrig,
ragged from
palte,
a rag
---
paltry
adjective
pal·tri·er, pal·tri·est
Lacking in importance or worth. See Synonyms at trivial.
Very small or inadequate in amount; negligible: was paid a paltry sum for his work.
Marked by meanness or lack of generosity; contemptible: "I would far rather burn my whole book, than that he or any other man should think that I had behaved in a paltry spirit" ( Charles Darwin )
Origin of paltry
Probably from
obsolete and dialectal
paltry
trash
perhaps from
Low German
paltrig
ragged
from
palte
rag
Related Forms:
---
paltry

Adjective
(comparative paltrier, superlative paltriest)
trashy, trivial, of little value

This is indeed a paltry flyer about a silly product.
She made some paltry excuse and left.
Usage notes
Nouns to which "paltry" is often applied: sum, rate, amount, number, price, salary, wages, fellow, pay, excuse, income, gain, compensation.
Origin
From Middle Low German paltrig ("ragged, rubbishy, worthless"), from palter, palte ("cloth, rag, shred"), from Old Saxon *paltro, *palto ("cloth, rag"), from Proto-Germanic *paltrô, *paltô ("scrap, rag, patch"). Cognate with Eastern Frisian palterig ("ragged, torn"), German dialectal palterig ("paltry"). Compare also Low German palte ("rag"), West Frisian palt ("rag"), German dialectal Palter ("rag"), Danish pjalt ("rag, tatter"), Swedish palta ("rag"). See also palterly.
---