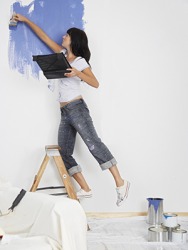 Nicole did a shoddy job because she has no painting experience.
adjective
The definition of shoddy is something immoral or sordid, or is something badly made.

Stealing from people who trust you is an example of shoddy behavior.
A cheap knock-off purse with uneven stitching and bad design is an example of a shoddy purse.
---
shoddy
noun
pl.
shod′dies
an inferior woolen yarn made from fibers taken from used fabrics and reprocessed
cheap woolen cloth made from this

anything of less worth or quality than it seems to have; esp., an inferior imitation
Origin of shoddy
19th circa from uncertain or unknown; perhaps
adjective
-·dier

,

-·di·est
made of shoddy
made of any cheap, inferior material
poorly done or made

counterfeit; sham: shoddy gentility
contemptible; mean; low: a shoddy trick
---
shoddy
adjective
shod·di·er, shod·di·est
Made of or containing inferior material.

a. Of poor quality or craft.

b. Rundown; shabby.

Dishonest or reprehensible: shoddy business practices.
Conspicuously and cheaply imitative.
noun
pl.
shod·dies
a. Woolen yarn made partially or entirely from scraps or used clothing.

b. Cloth made from or containing such yarn.

Something of inferior quality; a cheap imitation.
Origin of shoddy
Earlier
shoddy
worthless material, yarn made by shredding used woolen rags
perhaps from
dialectal
shoad, shode
loose fragments of ore on the ground indicating the presence of a lode
from
Old English
scādan, scēadan
to shed, divide
; see
skei-
in Indo-European roots.
Related Forms:
---
shoddy

Adjective
(comparative shoddier, superlative shoddiest)
Being of poor quality or construction

Do not settle for shoddy knives if you are serious about cooking.
Noun
(countable and uncountable, plural shoddies)
A low-grade cloth made from by-products of wool processing, or from recycled wool.
Origin
Unknown, but possibly from shoad ("loose stone and rubble"), from Old English scádan ("to divide"), or possibly from the Arabic word for reuse. Shoad was of inferior quality for building.
The modern adjectival sense was apparently derived from the use of inexpensive shoddy ("fabric from wool-processing byproduct") for unsuitable applications such as for military uniforms at the beginning of the US Civil War.
---