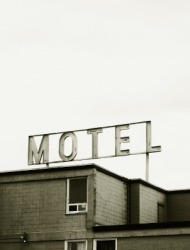 Sign over a seedy motel.
adjective
The definition of seedy is something shabby, ailing or sordid, or something with many seeds.

A gross hotel that rents rooms by the hour and that has old dirty carpet, worn rooms, and soiled linens is an example of a seedy building.
An old man who has a reputation for trying to pick up drunk young girls is an example of someone who would be described as seedy.
A pomegranate is an example of a seedy fruit.
---
seedy
adjective
seed′i·er

,

seed′i·est
containing many seeds
gone to seed
having tiny bubbles: said of glass
shabby, run-down, etc.
feeling or looking physically bad or low in spirits
---
seedy
adjective
seed·i·er, seed·i·est
Having many seeds.
Resembling seeds or a seed.
Worn and shabby; unkempt: "He was soiled and seedy and fragrant with gin" ( Mark Twain )
Somewhat disreputable; squalid: a seedy hotel in a run-down neighborhood.
Chiefly British Tired or sick; unwell.
Related Forms:
---
seedy

Adjective
(comparative seedier, superlative seediest)
disreputable; run-down

The healing power of alcohol only works on scrapes and nicks;; and not on girls in seedy bars who drown themselves in it. (from "Choice Hops and Bottled Self Esteem" by Bayside)

full of seeds

pomegranates are as seedy as any fruit you are likely to see.

infirm; gone to seed

With her aching back and pronounced limp, she was feeling particularly seedy today.

suffering the effects of a hangover

After last night's party we were all feeling pretty seedy.
---