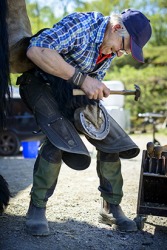 The horse is getting shod with new horseshoes.
adjective
The definition of shod is wearing shoes or equipped with tires.

An example of shod is a child wearing new shoes.
An example of a shod is for a car to have new tires.
---
shod
---
shod
verb
Past tense and a past participle of
shoe
---
shod

Verb
Simple past tense and past participle of shoe.
---