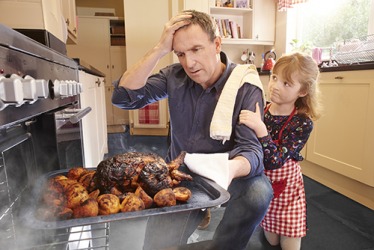 Violet's dad was remiss in keeping an eye on the chicken roasting in the oven and now dinner is ruined.
adjective
The definition of remiss is to be negligent or careless or not do something you should.

An example of remiss is when you make sloppy, careless errors and don't pay attention to your work.
---
remiss
careless in, or negligent about, attending to a task; lax in the performance of duty
characterized by carelessness or negligence

Now Rare

not energetic; languid
Origin of remiss
Classical Latin
remissus,
past participle of
remittere:
see remit
---
remiss
adjective
Lax in attending to duty; negligent. See Synonyms at
negligent
.
Origin of remiss
Middle English
from
Latin
remissus
past participle of
remittere
to remit, slacken
; see
remit
.
Related Forms:
---
remiss

Adjective
(not comparable)
At fault; failing to fulfill responsibility, duty, or obligations.

I would certainly be remiss if I did not give credit where credit was due.

Not energetic or exact in duty or business; careless; tardy; slack; hence, lacking earnestness or activity; languid; slow.
---