careful
care·ful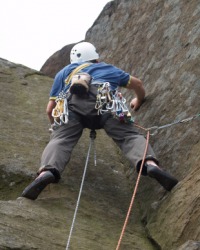 A mountain climber must be very careful.
adjective
The definition of careful is someone or something that works or thinks in a cautious, thorough or thoughtful way.

A mountain climber who triple checks their safety gear is an example of careful.
A person who is very detailed is an example of careful.
Purposely making very little noise while someone is sleeping is an example of careful.
---
careful
acting or working in a thoughtful, painstaking way
cautious, wary, or guarded: a careful reply
accurately or thoroughly done or made; painstaking: a careful analysis

Archaic

feeling or causing sorrow, worry, etc.; anxious
Origin of careful
Middle English and amp; OE: see care and amp; -ful
---
careful
adjective
Attentive to potential danger, error, or harm; cautious: was careful when crossing the street; a careful answer.
Thorough and painstaking in action or execution; conscientious: a careful search; careful art restorers.
Protective; solicitous: Be careful of his feelings.
Full of cares or anxiety: "Thou art careful and troubled about many things" (Luke 10:41).
Related Forms:
---
careful
---