punctilious

punc·til·i·ous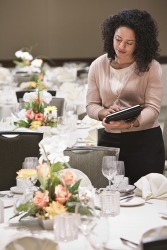 The punctilious wedding planner made sure that every table was set properly.
adjective
The definition of punctilious describes someone that is careful with all the details of behavior.

An example of someone who is punctilious is the party planner at the wedding.
---
punctilious
very careful about every detail of behavior, ceremony, etc.: a punctilious host
very exact; scrupulous
Origin of punctilious
French
pointilleux
from
pointille
from Italian
puntiglio:
see punctilio
---
punctilious
adjective
Strictly attentive to minute details of form in action or conduct. See Synonyms at meticulous.
Precise; scrupulous.
Related Forms:
---
punctilious

---