particular

par·tic·u·lar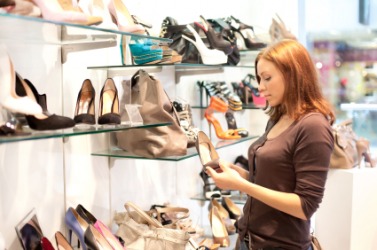 This woman seems to like this particular shoe.
adjective
The definition of particular is pertaining to a specific person, thing or place, or something that is noteworthy or under immediate consideration.

An example of particular is a certain shoe style that a woman likes.
An example of particular is a specific statement in a legal document that needs to be reviewed.
---
particular
of or belonging to a single, definite person, part, group, or thing; not general; distinct
apart from any other; regarded separately; specific: to rummage for a particular earring
out of the ordinary; unusual; noteworthy; special: no particular reason for going
dealing with particulars; itemized; detailed
not satisfied with anything considered inferior; exacting; extremely careful; fastidious

Logic

designating a proposition that deals with only some members of a class rather than all of them; not universal: "some people have red hair" is a particular proposition
Origin of particular
Middle English
particuler
from Middle French from Late Latin
particularis
from Classical Latin
particula,
particle
a separate and distinct individual, fact, item, or instance which may be included under a generalization; single case
a detail; item of information; point: often used in pl.

Logic

a particular proposition
---
particular
adjective
Of, belonging to, or associated with a specific person, group, thing, or category; not general or universal: She did not have a particular café in mind for their get-together.
Distinctive among others of the same group, category, or nature; noteworthy or exceptional: an area known for its particular style of architecture.

a. Of, relating to, or providing details; precise: gave a particular description of the incident.

b. Attentive to or concerned with details or niceties, often excessively so; fussy.

Logic Encompassing some but not all of the members of a class or group. Used of a proposition.
noun
An individual item, fact, or detail: The two schools are similar in every particular. The police refused to divulge the particulars of the case.
Logic A particular proposition.
Origin of particular
Middle English
particuler
from
Old French
from
Late Latin
particulāris
from
Latin
particula
diminutive of
pars
part-
part
; see
part
.
---
particular

Adjective
(not comparable)
Specific; discrete; concrete.

I couldn't find the particular model you asked for, but I hope this one will do.
We knew it was named after John Smith, but nobody knows which particular John Smith.

Specialised; characteristic of a specific person or thing.

I don't appreciate your particular brand of cynicism.

Distinguished in some way; special (often in negative constructions).

My five favorite places are, in no particular order, New York, Chicago, Paris, San Francisco and London.
I didn't have any particular interest in the book.
He brought no particular news.
She was the particular belle of the party.

(comparable) Of a person, concerned with, or attentive to, details; minute; precise; fastidious.

He is very particular about his food and if it isn't cooked to perfection he will send it back.

Concerned with, or attentive to, details; minute; circumstantial; precise.

a full and particular account of an accident

(law) Containing a part only; limited.

a particular estate, or one precedent to an estate in remainder

(law) Holding a particular estate.

a particular tenant

(logic) Forming a part of a genus; relatively limited in extension; affirmed or denied of a part of a subject.

a particular proposition, opposed to "universal", e.g. (particular affirmative) "Some men are wise"; (particular negative) "Some men are not wise".
particulars (certain individuals - not used in singular)
Noun
(plural particulars)
Whole Duty of Man

temporal blessings, whether such as concern the public [...] or such as concern our particular

(now philosophy, chiefly in plural) A particular case; an individual thing as opposed to a whole class. (Opposed to generals, universals.) [from 17th c.]
---