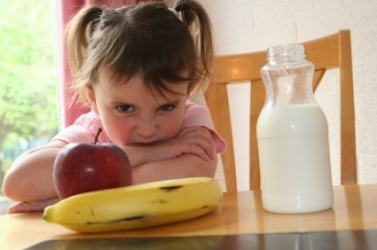 A finicky eater refusing healthy food.
adjective
The definition of finicky is someone who is overly picky or fussy, or is showing an obsessive attention to detail.

A person who only eats one or two things and dislikes everything else is an example of someone who would be described as a finicky eater.
A collector of art who looks at every detail of all pieces before he buys them to make sure they are perfect is an example of a finicky person.
---
finicky
too particular or exacting; overly dainty or fastidious; fussy
Origin of finicky
from finical
---
finicky
adjective
fin·ick·i·er, fin·ick·i·est
Insisting capriciously on getting just what one wants; difficult to please; fastidious: a finicky eater.
Origin of finicky
From
finick
a finical person
from
finical
Related Forms:
---
finicky

Adjective
(comparative finickier or more finicky, superlative finickiest or most finicky)
(informal) Fastidious and fussy; difficult to please; exacting, especially about details.

The baby was finicky until her diaper was changed.

(informal) Demanding, requiring above-normal care.

The lawnmower is a bit finicky in cold weather.
Usage notes
The forms finickier and finickiest also exist, but are quite rare, and perhaps nonstandard. The forms more finicky and most finicky are much more common, and certainly standard.
---