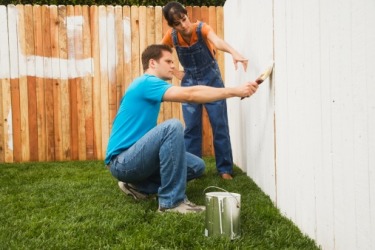 A persnickety wife giving painting instructions to her husband.
adjective
The definition of persnickety is paying extremely close attention to detail.

An example of a persnickety person is someone who obsesses over insignificant details of a project.
---
persnickety
too particular or precise; fastidious; fussy
showing or requiring extremely careful treatment
Origin of persnickety
from
pernickety
from Scottish dialect, dialectal , altered from uncertain or unknown; perhaps
pertickie,
child's term for particular
---
persnickety
adjective
a. Overparticular about trivial details; fastidious.

b. Snobbish; pretentious.

Requiring strict attention to detail; demanding: a persnickety job.
Origin of persnickety
Alteration of
pernickety
Related Forms:
---
persnickety

Adjective
(comparative more persnickety, superlative most persnickety)
(US) Fastidious or fussy.
---