informal

in·for·mal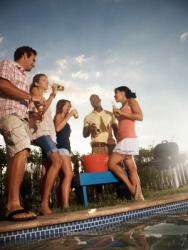 An informal poolside party.
adjective
The definition of informal is something or someone who is casual or relaxed.

An example of informal used as an adjective is informal clothing, such as comfy casual jeans and a sweatshirt.
---
informal
not formal; specif.,: the label [Informal] is used throughout this dictionary in this sense
not according to prescribed or fixed customs, rules, ceremonies, etc.
casual, easy, unceremonious, or relaxed
designed for use or wear on everyday occasions
not requiring formal dress
designating or of the words, phrases, and idioms characteristic of speech or writing that is casual, ordinary, unceremonious, etc.; colloquial
---
informal
adjective
Not formal or ceremonious; casual: an informal gathering of friends; a relaxed, informal manner.
Not being in accord with prescribed regulations or forms; unofficial: an informal agreement.
Suited for everyday wear or use: informal clothes.
Characterized by nontechnical vocabulary, simple sentence structure, and relatively few explicit transitions, as typified by spoken language: informal discourse.
Related Forms:
---
informal

Adjective
(comparative more informal, superlative most informal)
See also:
informál
---