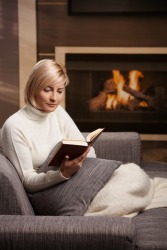 She looks cozy.
adjective
The definition of cozy is warm and comfortable.

An example of cozy is the feeling of a soft, warming blanket on a cold winter's day.
---
cozy
adjective
-·zier

,

-·zi·est
warm and comfortable; snug
Origin of cozy
Scot; probably from Scand, as in Norwegian
kose sig,
to make oneself comfortable,
koselig,
snug
noun
pl.
-·zies
a knitted or padded cover placed over a teapot to keep the contents hot
cozy up to
Informal
to try to ingratiate oneself, or make friends, with
play it cozy
Slang
to act cautiously so as to avoid risk
---
cozy
also co·sy
adjective
co·zi·er, co·zi·est,
also
co·si·er
co·si·est
Snug, comfortable, and warm. See Synonyms at comfortable.
Marked by friendly intimacy: a cozy chat.
Informal Marked by close association for devious purposes: a cozy agreement with the competition.
verb
co·zied, co·zy·ing, co·zies,
also
co·sied
co·sy·ing
co·sies
verb
intransitive
To make oneself snug and comfortable: cozy up with the Sunday paper.
Informal To try to get on friendly or intimate terms; ingratiate oneself: "out on the … hustings, cozying up to reactionaries and racists alike" ( Chuck Stone )
verb
transitive
Informal To cause to appear comfortable or conducive to intimacy: added some pillows to cozy up the room.
noun
pl.
co·zies,
also
co·sies
A padded or knitted covering placed over an item, especially a teapot, to keep it hot.
A hollow cylindrical holder, usually made of foam rubber or a similar soft material, used to keep a beverage cold while being held.
Origin of cozy
Probably of Scandinavian origin
Related Forms:
---
cozy

Noun
(plural cozies)
A padded or knit covering to keep an item warm, especially a teapot or egg.
A padded or knit covering for any item (often an electronic device such as a laptop computer).
Verb
(third-person singular simple present cozies, present participle cozying, simple past and past participle cozied)
To become snug and comfortable.
To become friendly with.

He spent all day cozying up to the new boss, hoping for a plum assignment.
Origin
From Scots, later adapted into English.
---
cozy - Computer Definition
---