den

den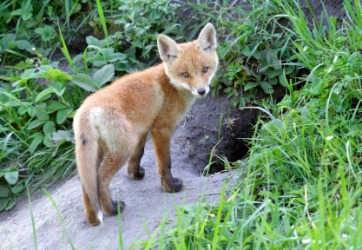 A fox outside her den.
noun
The definition of a den is a hidden place where wild animals sleep or a small room in a house.

An example of a den is a bear cave.
An example of a den is where you would have books and a nice chair for reading in your house.
---
den
the cave or other lair of a wild animal
a retreat or headquarters, as of thieves; haunt
a small, squalid room
a small, cozy room in a house, where a person can be alone to read, work, etc.
a small, localized unit of Cub Scouts
Origin of den
Middle English from Old English
denn
, lair, pasture, akin to MLowG, place where grass is trodden down, lair from Indo-European base an unverified form
dhen-
, level place
intransitive verb
denned

,

den′ning
to live or hide in or as in a den
Den
---
den
noun
The shelter or retreat of a wild animal; a lair.
A cave or hollow used as a refuge or hiding place.
A hidden or squalid dwelling place: a den of thieves.
A secluded room for study or relaxation.
A unit of about eight to ten Cub Scouts.
intransitive verb
denned, den·ning, dens
To inhabit or hide in a den.
Origin of den
Middle English
from
Old English
denn
---
den

Noun
(plural dens)
A small cavern or hollow place in the side of a hill, or among rocks; especially, a cave used by a wild animal for shelter or concealment.

a den of robbers
Daniel was put into the lions' den.

A comfortable room not used for formal entertaining.
Verb
(third-person singular simple present dens, present participle denning, simple past and past participle denned)
Origin
From Middle English den, from Old English denn ("den, lair (of a beast), cave; a swine-pasture, a woodland pasture for swine"), from Proto-Germanic *danjō ("threshing-floor, barn-floor"), from Proto-Indo-European *dʰen- ("flat surface, board, sheet, area, palm of the hand"). Cognate with Scots den ("den, lair"), Dutch denne ("burrow, den, cave, attic"), Dutch den ("ship's deck, threshing-floor, mountain floor"), Middle Low German denne, danne ("threshing-floor, small dale"), German Tenne ("threshing-floor").
Abbreviations
Abbreviation of denier (a unit of weight)
Proper noun
(law) Abbreviation of Denmark.
Usage notes
This is the customary abbreviation of this term as used in case citations. See, e.g., The Bluebook: A Uniform System of Citation, Nineteenth Edition (2010), "Geographical Terms: Foreign countries and regions", Table T10.3, p. 438-443.
---
den - Computer Definition
(Directory Enabled Networks) The management of a network from a central depository of information about users, applications and network resources. Originally an initiative from Microsoft and Cisco, DEN was turned over to the DMTF in 1998, and its extensions were made part of the CIM specification in 1999. See WBEM, CIM and DMTF.
---