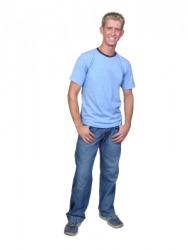 This man is dressed in casual clothes.
adjective
The definition of casual is someone or something relaxed, occasional, not planned or informal.

An example of casual clothing is jeans and a t-shirt.
An example of a casual date is meeting someone for coffee.
An example of a casual encounter is happening to see someone at the movies.
---
casual
happening by chance; not planned; incidental: a casual visit
happening, active, etc. at irregular intervals; occasional: a casual worker
slight or superficial: a casual acquaintance

careless or cursory: far too casual in his methods
nonchalant; dispassionate: affecting casual unconcern

informal or relaxed: a casual atmosphere
designed for informal occasions or use: casual clothes
Origin of casual
Middle English and Old French
casuel
from Late Latin
casualis
, by chance from Classical Latin
casus
, chance, event: see case
one who does something only occasionally or temporarily, esp. a casual worker
[pl.] shoes, clothes, etc. designed for informal occasions

Mil.

a person temporarily attached to a unit, awaiting a permanent assignment or transportation
---
casual
adjective
a. Being without ceremony or formality; relaxed or informal: a casual evening with friends.

b. Unpremeditated or offhand: a casual remark.

c. Suited for everyday wear or informal use: casual clothing.

Not serious or thorough; superficial: a casual inspection; a casual understanding of French.
Showing little interest or concern; nonchalant: "speaks with casual aplomb about being shot at" ( Janelle Brown )
Occurring or being such by chance: "in the first months when I was pregnant, before it was obvious to the casual observer" ( Anne Roiphe ) See Synonyms at chance.

a. Occurring at irregular or infrequent intervals; occasional: casual employment at a factory; a casual correspondence with a former teacher.

b. Employed on an irregular basis: casual workers.

a. Socialized with only occasionally; not close or intimate: a casual acquaintance.

b. Being or occurring between sexual partners who are not in an established relationship: casual lovers; casual sex.
noun
One that serves or appears at irregular intervals, especially a temporary worker.
casuals Casualwear: sent my casuals to the cleaners.
A soldier temporarily attached to a unit while awaiting permanent assignment.
Origin of casual
Middle English
casuel
due to chance, unpredictable
from
Old French
from
Latin
cāsuālis
from
cāsus
event
; see
case
1
.
Related Forms:
---
casual

Adjective
(comparative more casual, superlative most casual)
Happening by chance.

They only had casual meetings.

Coming without regularity; occasional or incidental.

The purchase of donuts was just a casual expense.

Employed irregularly.

He was just a casual worker.

Happening or coming to pass without design.
Designed for informal use.
Noun
(plural casuals)
(UK, New Zealand) A worker who is only working for a company occasionally, not as its permanent employee.
A soldier temporarily at a place of duty, usually en route to another place of duty.
(UK) A member of a group of football hooligans who wear expensive designer clothing to avoid police attention; see Casual (subculture).
Origin
From Middle French casuel, from Late Latin cāsuālis ("happening by chance"), from Latin cāsus ("event"), from cadere ("to fall").
---