adjective
The definition of casual is someone or something relaxed, occasional, not planned or informal.

An example of casual clothing is jeans and a t-shirt.
An example of a casual date is meeting someone for coffee.
An example of a casual encounter is happening to see someone at the movies.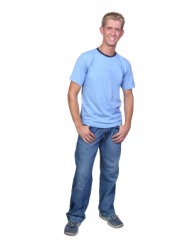 This man is dressed in casual clothes.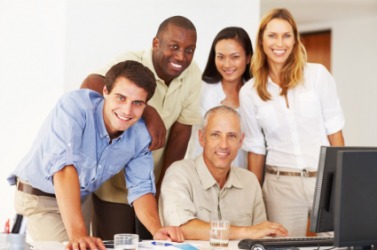 People wearing business casual attire.
---
casual definition by Webster's New World
adjective
happening by chance; not planned; incidental: a casual visit
happening, active, etc. at irregular intervals; occasional: a casual worker
slight or superficial: a casual acquaintance

careless or cursory: far too casual in his methods
nonchalant; dispassionate: affecting casual unconcern

informal or relaxed: a casual atmosphere
designed for informal occasions or use: casual clothes
Origin: Middle English and amp; Old French casuel ; from Late Latin casualis, by chance ; from Classical Latin casus, chance, event: see case
noun
one who does something only occasionally or temporarily, esp. a casual worker
shoes, clothes, etc. designed for informal occasions

Mil.

a person temporarily attached to a unit, awaiting a permanent assignment or transportation
Webster's New World College Dictionary Copyright © 2010 by Wiley Publishing, Inc., Cleveland, Ohio. Used by arrangement with John Wiley & Sons, Inc.
---
casual definition by American Heritage Dictionary
adjective
Occurring by chance. See Synonyms at chance.

a. Occurring at irregular or infrequent intervals; occasional: casual employment at a factory; a casual correspondence with a former teacher.

b. Unpremeditated; offhand: a casual remark.

a. Being without ceremony or formality; relaxed: a casual evening with friends.

b. Suited for everyday wear or use; informal.

Not serious or thorough; superficial: a casual inspection.

a. Showing little interest or concern; nonchalant: a casual disregard for cold weather.

b. Lenient; permissive: a casual attitude toward drugs.

Not close or intimate; passing: a casual acquaintance with avant-garde music.
noun
One that serves or appears at irregular intervals, especially a temporary worker.
casuals Casualwear: sent my casuals to the cleaners.
A soldier temporarily attached to a unit while awaiting permanent assignment.
Origin: Middle English casuel, from Old French, from Latin cāsuālis, from cāsus, event; see case1.
Related Forms: