slack

slack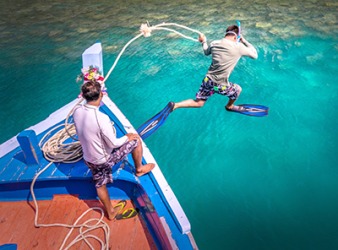 The diver's companion let the slack out of the rope so that he could reach the ocean floor while still being tethered to the boat.
adjective
The definition of slack is someone or something weak, slow, relaxed or careless.

An example of slack is an elastic waistband that has lost its elasticity.
An example of slack is someone who takes twice as long to do a job as another.
---
slack
slow; idle; sluggish
barely moving: said of a current, as of air or water
characterized by little work, trade, or business; not busy or active; dull: a slack period
loose; relaxed; not tight, taut, or firm
easily changed or influenced; weak; lax
careless or negligent: a slack workman
Origin of slack
Middle English
slakke
from Old English
slæc
, akin to Dutch
slak
from Indo-European base an unverified form
(s)l?g-
, loose, slack from source Classical Latin
laxus
, lax
to make slack; slacken
to slake
to be or become slack; slacken
to be idle, careless, or negligent
in a slack manner; so as to be slack
a part that is slack or hangs loose
a lack of tension or tautness; looseness
a stoppage of movement, as in a current
a period of lessened activity, production, etc.; lull
cut someone some slack
Slang
to be less demanding of someone; ease up on someone
pick up the slack
Informal
to address or remedy a lag, underperformance, etc.
a mixture of small pieces of coal, coal dust, and dirt left from the screening of coal
Origin of slack
Middle English
sleck
, akin to Flemish
slecke
, dross, Dutch
slak
: for Indo-European base see slay
a small valley or surface depression
Origin of slack
Middle English
slak
from Old Norse an unverified form
slakki
from Indo-European base an unverified form
s?l?k
, wet, sprinkle
---
slack
adjective
slack·er, slack·est
Not tense or taut; loose: a slack rope; slack muscles. See Synonyms at loose.

a. Lacking in activity; not busy: a slack season for the travel business.

b. Moving slowly; sluggish: a slack pace.

Lacking in diligence or due care or concern; negligent: a slack worker. See Synonyms at negligent.
Flowing or blowing with little speed: a slack current; slack winds.
Linguistics Pronounced with the muscles of the tongue and jaw relatively relaxed; lax.
verb
slacked, slack·ing, slacks
verb
transitive
a. To make looser or less taut: slacked the sail.

b. To make slower: slacked our pace.

To be careless or remiss in doing: slack one's duty.
To slake (lime).
verb
intransitive
To be or become slack.
To be inactive or avoid work: slacked around the house all day.
noun
A loose part, as of a rope or sail: hauled in the slack.
A period of little activity; a lull: a slack in business.

a. A cessation of movement in a current of air or water.

b. An area of still water.

Unused capacity: still some slack in the economy.
slacks Casual pants that are not part of a suit.
adverb
In a slack manner: a banner hanging slack.
Phrasal Verbs:
slack off
To decrease in activity or intensity.To work less intensely than is required or expected:
slacked off at work and started surfing the internet.
Origin of slack
Middle English
slak
from
Old English
slæc
; see
slēg-
in Indo-European roots.
Related Forms:
noun
A mixture of coal fragments, coal dust, and dirt that remains after screening coal.
Origin of slack
Middle English
sleck
noun
Chiefly British
A small dell or hollow.
A bog; a morass.
Origin of slack
Middle English
slak
from
Old Norse
slakki
---
slack

Noun
(countable and uncountable, plural slacks)
Adjective
(comparative slacker, superlative slackest)
Lax; not tense; not hard drawn; not firmly extended.

a slack rope

Weak; not holding fast.

a slack hand

Remiss; backward; not using due diligence or care; not earnest or eager.

slack in duty or service

Not violent, rapid, or pressing.

Business is slack.
Adverb
(not comparable)
Slackly.

slack dried hops
Verb
(third-person singular simple present slacks, present participle slacking, simple past and past participle slacked)
Origin
For sense of coal dust, compare slag.
---
slack - Computer Definition
A messaging app for team collaboration from Slack Technologies (www.slack.com). Introduced in 2013 and originally developed as a tool for its own video game development, Slack lets people organize chat "channels" for projects, departments, groups of users, etc., all of which reside in a sidebar. Messages can also be made private, and files can be shared by dropping them into a channel. Documents can be searched, and social media, cloud storage and other services can be plugged in to keep all communications in one place. Available as a freemium product, the paid versions offer many more features, including tech support, usage statistics and unlimited searching and service integration. See collaborative software.
---