slag

slag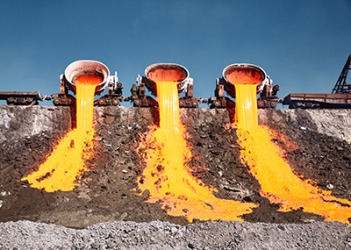 Molten slag is poured out of containers.
noun
Slag is waste matter separated from metal during smelting.

An example of slag is the iron and silica that is removed during copper and lead smelting.
verb
To slag is defined as to create waste matter from metal smelting.

An example of to slag is for the heat of copper smelting to remove the iron and silica from the copper.
---
slag
the fused refuse or dross separated from a metal in the process of smelting
lava resembling this

Chiefly Brit., Slang

: a derogatory or insulting term

a worthless, contemptible person
a sexually promiscuous woman
Origin of slag
from Middle Low German
slagge
(from source German
schlacke
) from
slagen
, to strike: for Indo-European base see slay
transitive verb
slagged

,

slag′ging
to form into slag

Origin of slag

see slag (noun)

Chiefly Brit., Slang

to criticize, disparage, or insult: often with off
---
slag
noun
The vitreous mass left as a residue by the smelting of metallic ore.
See scoria.
tr. & intr.v.
slagged, slag·ging, slags
To change into or form slag.
Origin of slag
Low German
slagge
from
Middle Low German
Related Forms:
---
slag

Verb
(third-person singular simple present slags, present participle slagging, simple past and past participle slagged)
To produce slag.
(intransitive, Australia, slang) To spit.
---