relax

re·lax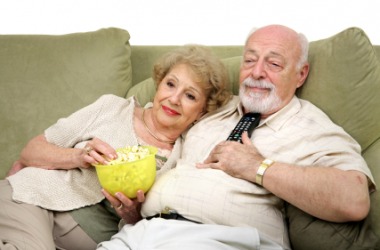 A couple relax in front of the tv.
verb
To relax is defined as to become calm, to loosen, or to calm down.

An example of to relax is to sit on the couch and watch TV after a long day of work.
---
relax
to make looser, or less firm or tense: to relax one's grip
to make less strict or severe; soften: to relax discipline
to abate; reduce; slacken: to relax one's efforts
to release from intense concentration, hard work, worry, etc.; give rest to: to relax the mind
to treat (tightly curled hair) with a chemical solution so as to loosen the curls
Origin of relax
Middle English
relaxen,
to loosen from Classical Latin
relaxare
from
re-,
back +
laxare,
to loosen, widen from
laxus,
loose: see lax
to become looser or less firm, as the muscles
to become less tense or stern, as one's features
to become less strict, or milder, as discipline
to become easier, or less stiff, in manner
to rest from effort, worry, or work, as by lying down, engaging in recreation, etc.
---
relax
verb
re·laxed, re·lax·ing, re·lax·es
verb
transitive
To make lax or loose: relax one's grip.
To make less severe or strict: relax a curfew.
To reduce in intensity; slacken: relax one's efforts.
To relieve from tension or strain: The warm bath relaxed me.
verb
intransitive
To take one's ease; rest.
To become lax or loose.
To become less severe or strict.
To become less restrained or tense.
Origin of relax
Middle English
relaxen
from
Old French
relaxer
from
Latin
relaxāre
re-
re-
laxāre
to loosen
(
from
laxus
loose
; see
slēg-
in Indo-European roots.)
Related Forms:
---
relax

Verb
(third-person singular simple present relaxes, present participle relaxing, simple past and past participle relaxed)
To calm down.
To make something loose.

to relax a rope or cord; to relax the muscles or sinews

(intransitive) To become loose.
To make something (such as codes and regulations) more lenient.

1953, Edward Corwin, "Section 2. Jurisdiction", in The Constitution of the United States of America: Analysis and Interpretation, page 589:

The Court rejected the contention that the doctrine of sovereign immunity should be relaxed as inapplicable to suits for specific relief as distinguished from damage suits, saying: "The Government, as representative of the community as a whole, cannot be stopped in its tracks by any plaintiff who presents a disputed question of property or contract right."

(intransitive, of codes and regulations) To become more lenient.
(dated) To relieve from constipation; to loosen; to open.

An aperient relaxes the bowels.
---