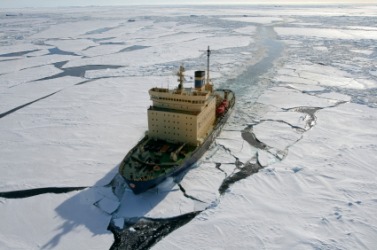 An icebreaker in Antarctica.
---
icebreaker
☆
noun
a sturdy, powerful vessel designed to cut channels through heavy ice
a wedgelike structure for protecting a bridge pier, dock, etc. from floating ice
anything serving to lessen formality or break down reserve
---
icebreaker
noun
A sturdy ship built for breaking a passage through icebound waters. Also called iceboat.
A protective pier or dock apron used as a buffer against floating ice.

a. Something done or said to relax an unduly formal atmosphere or situation.

b. A beginning; a start.
Related Forms:
---
icebreaker
Noun
(plural icebreakers)
A ship designed to break through ice so that it, or other ships coming behind, can navigate on frozen seas.

The steel hulls of ice-breakers are much thicker than those of standard vessels.
---
icebreaker - Computer Definition
A software program that cracks corporate firewalls.
Clutton, R. Welcome to the Simple Guide of Cyberpunk. [Online, June 24, 2001.] http://tip.net.au/~rclutton/cdict.html.
---