taut

taut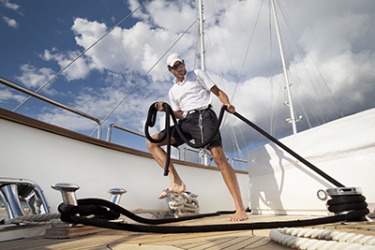 The deckhand on the yacht pulled the rope taut as he secured it to the cleat.
adjective
The definition of taut is pulled or stretched tight.

An example of taut is a strong wind pulling the sail tight on a boat.
An example of taut is a person's smile being pulled into a straight line.
---
taut
tightly stretched: said as of a rope
showing strain; tense: a taut smile
trim, orderly, and characterized by strict enforcement of discipline: said of a ship
Origin of taut
Middle English
toght
, tight, firm, probably from past participle of
togen
( from Old English
togian
), to pull, tow
---
taut
adjective
taut·er, taut·est
a.

Pulled or drawn tight; not slack. See Synonyms at

tight

.

b. Flexed or not loose: taut muscles.

c. Strained or tense: taut nerves.

a. Kept in good order; trim: a taut ship.

b. Marked by the efficient, sparing, or concise use of something, such as language or detail: a taut movie script.
Origin of taut
Middle English
tohte
distended
perhaps ultimately from
Old English
togian
to drag
; see
tow
1
.
Related Forms:
---
taut

Origin
From Middle English, past participle of tow
Prefix
Alternative form of tauto-.
---