Taurus

Tau·rus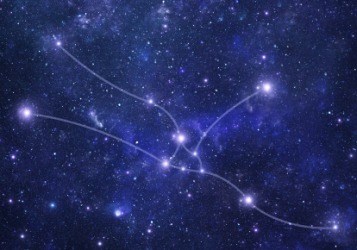 The constellation Taurus.
noun
Taurus is a constellation near Orion and Aries, represented by the bull.

Taurus: What It Looks Like

The Taurus constellation has two stars at the tips of the bull's horns.
It has stars where the eyes and nose are, and at least one star that marks the legs.
Inside the Taurus constellation, you may want to look for the Pleiades, or the Seven Sisters.
Aldebaran, which is a red giant star, is one of its eyes.
The Crab nebula is between its horns.
The Hyades is a star cluster that makes a v-shape on the head of the bull and its stars make up one eye (not Aldebaran) and his nose.

Finding the Taurus Constellation

Taurus constellation can be easily located:

In September and October, the constellation can be traced along the eastern horizon after sunset; it appears between Aries and Gemini, for anyone who is versed in the locations of the other zodiac constellations.
During the winter months, the Constellation Taurus is located in the night sky of the northern hemisphere.
As winter changes into spring, Taurus moves across the sky; by March, it appears on the western horizon.

An example of Taurus is a group of stars in the Northern Hemisphere.

Taurus is a sign of the zodiac or someone born under that sign.

An example of a Taurus is someone born on April 25th.
---
Taurus
a N constellation between Aries and Orion containing the Hyades and the Pleiades star clusters, the Crab nebula, and the bright star Aldebaran; the Bull
the second sign of the zodiac, entered by the sun about April 21
a person born under this sign
Origin of Taurus
Middle English from L, bull, ox, probably from Indo-European an unverified form
tauros
from base an unverified form
t?u-
, to swell from source thumb, Classical Latin
tumere
, to swell
---
Taurus
noun
A constellation in the Northern Hemisphere near Orion and Aries.

a. The second sign of the zodiac.

b. One who is born under this sign. Also called In all senses also called Bull .
Origin of Taurus
Middle English
from
Latin
bull, the constellation Taurus
; see
tauro-
in Indo-European roots.
---
taurus

Noun
Used attributively as a species epithet
Origin
New Latin, from Latin taurus ("bull")
Proper noun
(symbol ♉)
(astronomy): A constellation of the zodiac supposedly shaped like a bull and containing the star Aldebaran.
(astrology): The zodiac sign for the bull, ruled by Venus and covering April 21 - May 21 (tropical astrology) or May 16 - June 15 (sidereal astrology).
(automobile) An automobile model produced by the Ford Motor Company (1986-present).
Noun
(plural Tauruses)
Someone with a Taurus star sign
Origin
From Latin taurus ("bull").
Proper noun
a mountain range in southern Anatolia, running parallel to the Mediterranean coast
Origin
From Latin Taurus, from Ancient Greek Ταῦρος (Tauros)
---