rising sign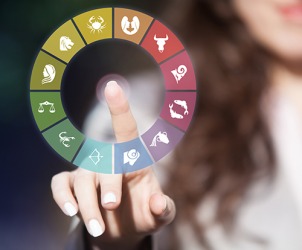 You will need to know the date, time, and place of your birth in order to determine your rising sign.
noun
The definition of a rising sign is the sign of the zodiac that was rising in the east at the exact moment of your birth.

Facts About the Rising Sign

Your rising sign signifies the traits that you show to people or the way you act.

Each rising sign has a different set of characteristics:

Aries Rising: action oriented, incisive, straightforward, larger than life

Taurus Rising: calm, patient, affectionate, cautious

Gemini Rising: clever, entertaining, changeable, talkative

Cancer Rising: sensitive, creative, vulnerable, loving

Leo Rising: charismatic, playful, generous, spirited

Virgo Rising: thoughtful, trustworthy, finicky, self-critical

Libra Rising: charming, insightful, persuasive, fair

Scorpio Rising: powerful, driven, emotional, profound

Sagittarius Rising: optimistic, lucky, fun loving, adventurous

Capricorn Rising: serious, disciplined, successful, sober

Aquarius Rising: curious, friendly, likable, stubborn

Pisces Rising: nurturer, empathetic, intuitive, "go with the flow"

You have to know the location and extact time of your birth in order to know what sign was ascending when you were born. That is because of the Earth's rotation.

Exact Time - Your rising sign will move up one degree every four minutes. After going up 30 degrees, a new sign will appear and become the new rising sign for that time.

Exact Location - Your place of birth is important to determine your latitude and longitude.

An example of a rising sign is Aquarius.
---