The signs of the zodiac.
noun
Zodiac is the twelve astrological signs each named for a constellation.

Meanings of the Zodiac Signs

Capricorn (December 22-January 20) - People who are born under this sign are considered to be quite intelligent. They also display a lot of patience, and they will go to great lengths to achieve their goals. Therefore, Capricorns tend to be very well suited to handling business situations. Capricorns tend to be compatible with Scorpio, Pisces, Virgo, Aries, Cancer and Taurus.

Aquarius (January 21-February 19) - Those individuals born under this sign have been called "simple." However, that is not meant in a demeaning manner. This quality allows them to be honest, loyal, and dependable. Two other positive attributes of the Aquarius individual are that he or she is quite smart and rather independent. Aquarius tend to be compatible with Aries, Gemini, Libra, Pisces, Sagittarius, and other Aquarius.

Pisces (February 20-March 20) - Pisces shares a couple of qualities with Aquarius. Both are honest and both are low key. They do not like to draw attention to themselves. People who are born under this sign are usually generous and passionate towards other people and their goals. Pisces tend to be compatible with Aries, Aquarius, Taurus, Cancer, Scorpio, and Capricorn.

Aries (March 21-April 19) - An Aries will go after what he or she wants, since these individuals possess a great deal of drive and ambition. They tend to blend in well with other people due to their sociable and humorous nature. Furthermore, they are creative and strong willed, although they tend to keep feelings for others under wraps. An Aries tends to be compatible with Gemini, Sagittarius, Aquarius, Capricorn, and Pisces.

Taurus (April 20-May 19) - People born under this sign are often associated with the stubborn bull. However, they also have a great deal of strength in both the mental and physical capacities. In addition, they make great teachers, at least partially because of the fact that they are both sympathetic and loving. Taurus tend to be compatible with Libra, Taurus, Cancer, Capricorn, Virgo, and Pisces.

Gemini (May 20-June 20) - Geminis are quite unpredictable. They are creative and open; therefore, they may change the way that they act quite frequently. In addition to being positive about life, they are also quite flexible and are able to adapt very well to different types of situations. A Gemini tends to be compatible with other Gemini, Leo, Libra, and Aquarius.

Cancer (June 21-July 22) - Cancers are often very traditional people, and they love being at their homes. They are extremely caring towards other individuals, and their extreme patience helps them to really succeed in that field. A Cancer tends to be compatible with Taurus, Leo, Virgo, Scorpio, Capricorn, and Pisces.

Leo (July 23-August 21) - Like the mighty lion that represents them, Leos are born to be leaders. However, in addition to being brave and headstrong, they are also loving and generous. Therefore, they are able to combine these different qualities into one very strong being. A Leo tends to be compatible with other Leo as well as Libra, Sagittarius, Cancer, and Gemini.

Virgo (August 22-September 22) - People born under this sign are perfectionists; therefore, it helps that they have amazing memories and their natural instincts are right on target. They are great at organizing and planning; therefore, they work well with teams. A Virgo is compatible with other Virgos as well as Scorpio, Capricorn, Taurus, and Cancer.

Libra (September 23-October 22) - These individuals are very introverted. By their nature, they are shy and quiet. However, they also display great amounts of justice, and they are very trustworthy individuals. A Libra will be compatible with another Libra as well as Sagittarius, Leo, Taurus, Aquarius, and Gemini.

Scorpio (October 23-November 21) - Here is another sign that is made up of a lot of go-getters. Scorpios are ambitious, bold, courageous, and self confidence. They know what they want in life, and they are not afraid to go after those goals. They are also cool headed, which helps them to achieve their desires. A Scorpio is compatible with Capricorn, Pisces, Cancer, and Virgo.

Sagittarius (November 22-December 21) - People born under this sign like to philosophize. Furthermore, they are extremely honest individuals. They focus a lot of their energy on their work and on their family life. A Sagittarius is compatible with Aquarius, Libra, Aries, and Leo.

An example of a zodiac is Aquarius or Aries.
---
zodiac
a beltlike zone in the sky extending for about eight degrees on either side of the apparent path of the sun and including the paths of the moon and the principal planets: it is divided into twelve equal parts, or signs, each named for a different constellation
a figure or diagram representing the zodiac and its signs: used in astrology

Rare

a circle or circuit
Origin of zodiac
Middle English
zodiak
from Middle French
zodiaque
from Classical Latin
zodiacus,
zodiac from Classical Greek
z?diakos (kyklos)
, zodiac (circle), literally , circle of animals from
z?idion,
diminutive of
z?ion,
animal: see bio-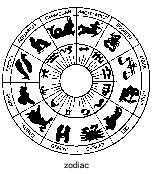 ---
zodiac
noun
a. Astronomy A band of the celestial sphere extending about 8° to either side of the ecliptic that represents the path of the principal planets, the moon, and the sun.

b. In astrology, this band divided into 12 equal parts called signs, each 30° wide, bearing the name of a constellation for which it was originally named but with which it no longer coincides owing to the precession of the equinoxes.

c. A diagram or figure representing the zodiac.

A complete circuit; a circle.
Origin of zodiac
Middle English
from
Old French
zodiaque
from
Latin
zōdiacus
from
Greek
zōidiakos (kuklos)
(circle) of the zodiac
from
zōidion
small represented figure, zodiacal sign
diminutive of
zōion
living being
; see
zoon
.
Related Forms:
---
zodiac

Noun
Alternative capitalization of zodiac.
---