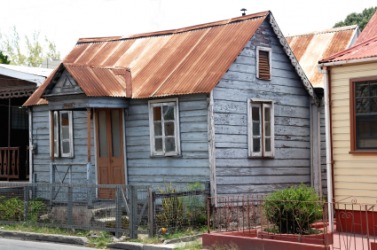 A ramshackle house.
adjective
The definition of ramshackle is something that is badly in need of repair or that is likely to fall apart.

A house with boarded up windows and a sagging foundation that could fall over at any time is an example of a ramshackle house.
---
ramshackle
loose and rickety; likely to fall to pieces; shaky: a ramshackle old building
Origin of ramshackle
back-formation from
ramshackled,
for earlier
ransackled,
past participle of
ransackle,
frequentative of ransack
---
ramshackle
adjective
So poorly constructed or kept up that disintegration is likely; rickety: a ramshackle cabin in the woods.
Origin of ramshackle
Back-formation from
obsolete
ranshackled
ramshackle
alteration of
ransackled
past participle of
ransackle
to ransack
frequentative of
Middle English
ransaken
to pillage
; see
ransack
.
---
ramshackle

Adjective
(comparative more ramshackle, superlative most ramshackle)
In disrepair or disorder; poorly maintained; lacking upkeep, usually of buildings or vehicles.

They stayed in a ramshackle cabin on the beach.
He entered the ramshackle bus, and was driven a long distance through very sandy streets to the hotel on the St. Lawrence.

2012 September 7, Dominic Fifield, "England start World Cup campaign with five-goal romp against Moldova", The Guardian:

So ramshackle was the locals' attempt at defence that, with energetic wingers pouring into the space behind panicked full-backs and centre-halves dizzied by England's movement, it was cruel to behold at times. The contest did not extend beyond the half-hour mark.
Origin
First attested 1830, back-formation from ramshackled, from ransackled, past participle of ransackle ("to ransack"), frequentative of Middle English ransaken ("to pillage").
---