adjective
The definition of inconsolable is someone who is so upset that they cannot be comforted.

When your beloved husband died and nothing anyone can say will make you feel better, this is an example of when you are inconsolable.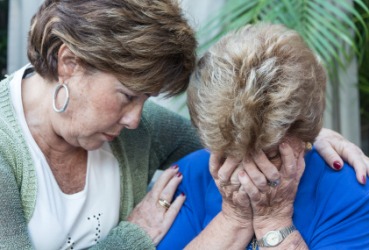 This woman is inconsolable.
---
inconsolable definition by Webster's New World
adjective
that cannot be consoled; disconsolate; brokenhearted
Origin: Classical Latin inconsolabilis
Webster's New World College Dictionary Copyright © 2010 by Wiley Publishing, Inc., Cleveland, Ohio. Used by arrangement with John Wiley & Sons, Inc.
---
inconsolable definition by American Heritage Dictionary
adjective
Impossible or difficult to console; despondent: was inconsolable after his pet died.
Related Forms:
inˌcon·solˌa·bilˈi·ty, inˌcon·solˈa·ble·ness

noun