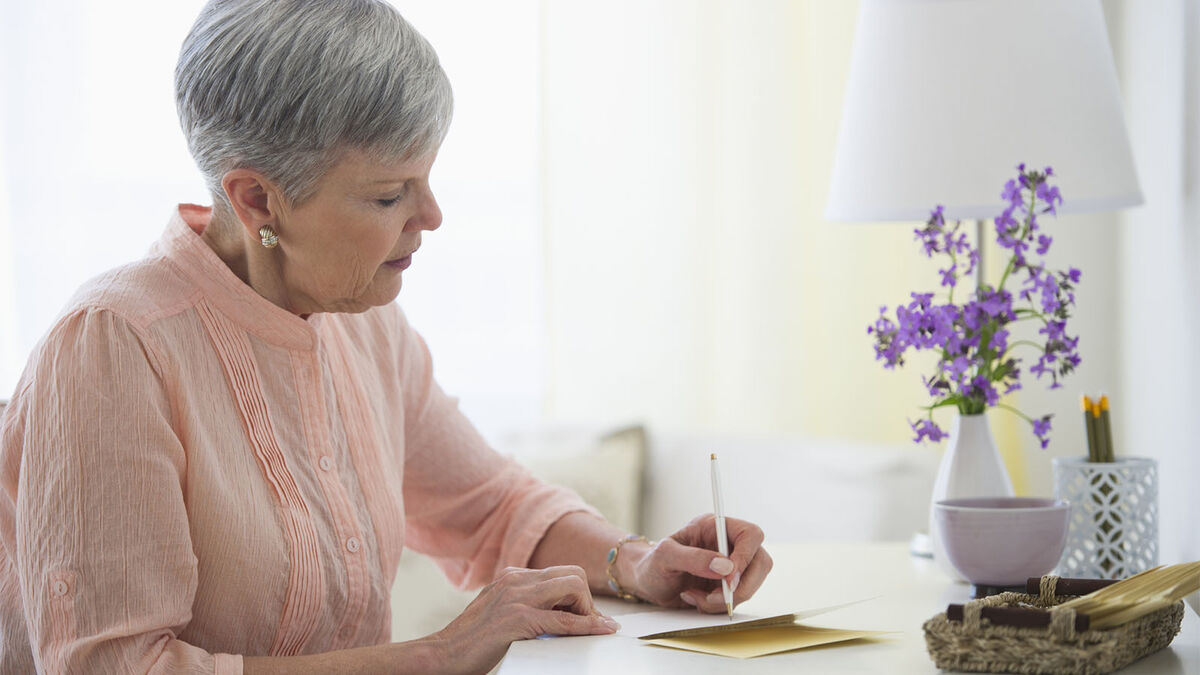 One of the saddest moments in life is the death of someone dear. Because it's so difficult to know the right words to say, tips for writing a sympathy card can make a difficult job easier as you express your support for those going through a difficult loss.
Tips on Writing Sympathy Cards
Most people who receive sympathy cards get them at a time when they are very sad, and getting these cards can make them feel loved or supported. Try to be understanding, yet uplifting in your message.
Choose the Right Type of Card
When buying pre-made sympathy cards, there are several types to choose from. Be careful because some of these cards are extremely cliché, which could actually harm your efforts by seeming impersonal.
Look for a card that matches the recipient's personality and grieving style more than your own.
Cards with a long poem or piece of prose written on the front tend to have a more serious tone.
Cards with a touch of humor can brighten the reader's day.
Consider Card Alternatives
Some people choose to send a sympathy letter rather than a card. With a letter, you can share personal memories of the person they have lost or detail your support. This allows you to be incredibly personal in your approach to reaching out, and it steers you away from the trite phrases that are on most greeting cards found at drugstores.
Use the Standard Sympathy Message Formula
Allow your words to be respectful, calm, and expressive as you write to this person. The typical style that is in these cards is often to say, "I'm sorry for the loss of your (insert relationship of deceased to recipient)," then express your support and your sympathy for them. Messages often end with a line suggesting the recipient can reach out to you anytime for any reason.
It might sound cliché, but this is one of those instances where you should go with your first heartfelt impulses. The words that come from your soul may be the very best ones to soothe the pain of loved ones left behind. If you truly don't know what to say, make it simple. Say you're sorry for their loss, and you will be there for them if they need you.
Personalize Your Thoughts
Store-bought cards with pre-printed sentiments are perfectly fine if you feel you aren't up to writing the right thing in a time of grief. But, it's better to personalize the card with more than just your name.
Offering moral support is great, but offering more specific support is better. Grieving people don't always know what they need or feel comfortable asking so many people for help. Offer specific types of help like cleaning their house, weekly phone calls, or a day where you take care of their kids.
Be Sensitive to the Recipient
Death, particularly after a long illness, can take its toll on the family members. It's not just the death they're suffering from; it may be the memory of long and painful days and nights, spent at the loved one's bedside. Many people who have suffered from the passing of their loved one may still be in shock and trying to digest all that's happened in a short span of time.
Be aware that not everyone believes in God. It's also possible that the dead person may have believed, but the family members don't.This can be delicate, so it's best to keep things as general as possible, unless you know for sure that prayers on the behalf of the departed would be welcomed by the family.
Understand That All Deaths Are Difficult
Every death is difficult. Whether the person who dies is an elderly person who dies of natural causes while surrounded by family and friends or a very young child who died in an accident, it is hard to cope with.
Even the most gracious person can be completely stumped as to what to say. Knowing the person who died doesn't make writing a sympathy note any easier; but, when the departed is someone you didn't know well, it's seems an almost impossible task to strike the right note in a sympathy card.
Examples of Sympathy Card Messages
Even though sympathy messages can be short, they're filled with sincere words that may lend some degree of comfort to the bereaved family, and that's not a small thing during a time of inconsolable grief.
What to Write in a Sympathy Card for Loss of Mother
Words of sympathy for the loss of a mother include how nurturing or caring she was as these are common mother traits.
Dear Jen,
After hearing of the loss of your mother, I am saddened for you. I know you will be feeling lost without her guidance and advice. I hope you find some comfort in the love from friends and family during this difficult time.
My sincere condolences,
Maggie
What to Write in a Sympathy Card for Loss of Father
Loss of a father messages are often centered on stability and security, as those are stereotypical father traits.
John,
I am so sorry to hear about your father's passing. He was clearly a great source of stability for you, and it must be hard knowing he is gone. If you ever feel yourself falter, please feel free to reach out to me any time.
With deepest sympathy,
Bob
What to Write in a Sympathy Card for Loss of Spouse
The loss of a spouse can feel like losing your other half. Messages for this occasion should include talk of love.
To Maria,
Losing your soul mate must be one of the most difficult things a person can experience, and I am sorry you have to endure this pain. I hope you will take comfort in knowing his love lives on forever in your heart.
With love,
Brie and Charlie Smith
What to Write in a Sympathy Card for Loss of Child
Loss of a child sympathy messages may be the hardest to write, particularly if the child died young. These messages often touch on innocence.
Dear Beth and Ben,
There are no words to express the heartbreak of losing a child. We will keep your family in our hearts.
With heartfelt sympathy,
Mr. and Mrs. Gordon
Religious Samples of What to Write in a Sympathy Card
If you know the recipient believes in God, or the deceased did, you can include a sympathy Bible verse or a message about God's role in death.
Sister Susan,
We are very sorry for your loss. God bless you in your grief. Please let me know if there is anything I can do besides pray for your healing.
God bless,
The Myers Family
What to Write in a Sympathy Card for Someone You Don't Know Well
Most bereavement card messages examples can be easily adjusted and used for someone you don't know well, just take out the deeply personal parts. Express your condolences in simple words to show you care.
Steve,
I know I never got to meet your grandpa, but the stories you've told about him are fresh in my mind. I will be thinking of all the good times you had with him and shared with me in conversation.
Condolences,
Bill
When Is it Appropriate to Write a Sympathy Card?
Traditionally, these cards are given when you find out that someone close to you has lost a parent, a close friend, or a loved one. You should write the card as soon as you find out about their loss. The card can be sent via mail, given to the family at a wake or funeral, or handed to them in person at their convenience.
Sending a Sympathy Card With a Gift
Some people like to deliver a sympathy card with a gift that will make the person's life easier in this difficult time, such as flowers, food, or treats. When someone is very upset about the loss of a loved one, self-care may not be a priority. A gift of a cooked meal or a dessert can be really helpful, especially when the grieving person is responsible for having family over during this time of mourning.
You may also want to enclose a small token, such as a mass card or the notice of a donation made in the name of the deceased, in the sympathy card. It will let the family know you are thinking of them, and their loved one, in their time of grief.
The death of a close relative is different from the passing of the relative of a friend, a person you may never have met. However, the grief is very real indeed, and choosing just the right card, with just the right words, can make one of the hardest events in life a little bit easier for the bereaved to bear.