adjective
The definition of forlorn is something or someone with a very poor condition, or is pitifully lonely or sad.

A puppy watching his owner leave for the day is an example of a puppy that would be described asforlorn.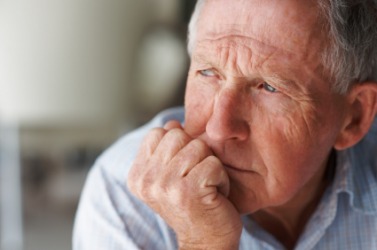 A man looking forlorn.
---
forlorn definition by Webster's New World
adjective
abandoned or deserted

lonely and sad; unhappy and neglected
without hope; desperate

bereft or deprived (of)
Origin: Middle English forloren ; from Old English past participle of forleosan, to lose utterly: see for- and amp; lose
Webster's New World College Dictionary Copyright © 2010 by Wiley Publishing, Inc., Cleveland, Ohio. Used by arrangement with John Wiley & Sons, Inc.
---
forlorn definition by American Heritage Dictionary
adjective
a. Appearing sad or lonely because deserted or abandoned.

b. Forsaken or deprived: forlorn of all hope.

Wretched or pitiful in appearance or condition: forlorn roadside shacks.
Nearly hopeless; desperate. See Synonyms at despondent.
Origin: Middle English forloren, past participle of forlesen, to abandon, from Old English forlēosan; see leu- in Indo-European roots.
Related Forms: