forlorn
[fôr lôrn′, fər-]
adjective
The definition of forlorn is something or someone with a very poor condition, or is pitifully lonely or sad.

A puppy watching his owner leave for the day is an example of a puppy that would be described asforlorn.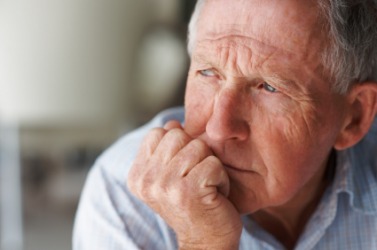 A man looking forlorn.
---
forlorn
adjective
abandoned or deserted

lonely and sad; unhappy and neglected
without hope; desperate

bereft or deprived (of)
Origin of forlorn
Middle English
forloren
; from Old English past participle of
forleosan
, to lose utterly: see for- and amp; lose
---
forlorn
adjective
a. Abandoned, deserted, or desolate: "my high school chums &ellipsis; enjoying cider and doughnuts &ellipsis; while I was trapped up on that forlorn mountain" (Howard Frank Mosher).

b. Sad or lonely, especially from being deserted or abandoned: "waved them goodbye from the door like forlorn parents waving off a honeymoon couple" (Anne Bartlett).

c. Suggesting or characterized by sadness or loneliness: the forlorn whistle of a train in the night.

d. Wretched or pitiful in appearance or condition: people living in forlorn shacks.

Bereft or deprived: forlorn of all hope.
Nearly hopeless; desperate: a forlorn acknowledgment of failure.
Origin of forlorn
Middle English
forloren
, past participle of
forlesen
,
to abandon
, from Old English
forlēosan
; see
leu-
in Indo-European roots.
Related Forms:
---
forlorn
Verb
(obsolete) Past participle of forlese
Adjective
(comparative forlorner or more forlorn, superlative forlornest or most forlorn)
---