lonely
[lōn′lē]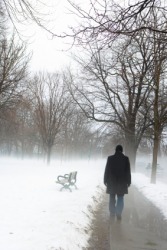 A man walks down a lonely road.
adjective
The definition of lonely is being alone and unhappy at being alone, or not near other people.

An example of lonely is being alone at home and wishing you had a date, a lonely time.
An example of lonely is a cabin with no neighbors for miles, a lonely cabin.
---
lonely
---
lonely
adjective
lone·li·er
,
lone·li·est
a. Dejected by the awareness of being alone. See Synonyms at

alone

.

b. Producing such dejection: the loneliest night of the week.

Without others of a similar kind; lone; solitary: "a lonely band of lawyers up against the might of the American legal establishment" (Nick Kotz).
Unfrequented by people; desolate: a lonely crossroads.
Related Forms:
---
lonely
---