verb
To devastate is defined as to destroy or ruin something or to cause someone to be overwhelmed with grief.

When a hurricane destroys a town, this is an example of a time when it devastates the town.
When you tell a person that his spouse died, this is an example of a time when you devastate him.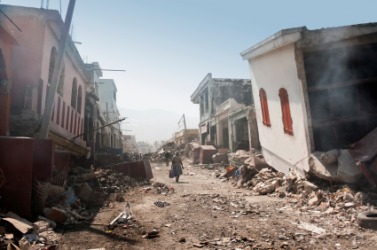 A city devastated by an earthquake.
---
devastate definition by Webster's New World
transitive verb
devastated, devastating
to lay waste; make desolate; ravage; destroy
to make helpless; overwhelm: the teacher's criticism devastated him
Origin: ; from Classical Latin devastatus, past participle of devastare, to lay waste ; from de-, intensive plush vastare, to make empty ; from vastus, empty: see vast
Webster's New World College Dictionary Copyright © 2010 by Wiley Publishing, Inc., Cleveland, Ohio. Used by arrangement with John Wiley & Sons, Inc.
---
devastate definition by American Heritage Dictionary
transitive verb
dev·as·tat·ed
,
dev·as·tat·ing
,
dev·as·tates
To lay waste; destroy.
To overwhelm; confound; stun: was devastated by the rude remark.
Origin: Latin dēvāstāre, dēvāstāt- : dē-, de- + vāstāre, to lay waste (from vāstus, empty, desolate; see euə- in Indo-European roots).
Related Forms: