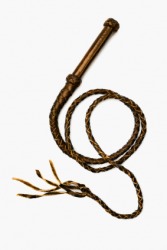 A whip is a flagellum.
---
flagellum
noun
pl. flagella or flagellums
a whip

Biol.

a whiplike part or process of some cells, esp. of certain bacteria, protozoans, etc., that is an organ of locomotion or produces a current in the surrounding fluid

Bot.

a threadlike shoot or runner

Zool.

the terminal, lashlike portion of the antenna in many insects
Origin of flagellum
Classical Latin a whip: see flagellate
---
flagellum
noun
pl.
fla·gel·la
Biology A long, threadlike appendage, especially a whiplike extension of certain cells or unicellular organisms that functions as an organ of locomotion.
A small whip; a scourge.
Origin of flagellum
Latin, diminutive of
flagrum
,
whip
.
flagellum
on a euglena
---
flagellum
---