roast

roast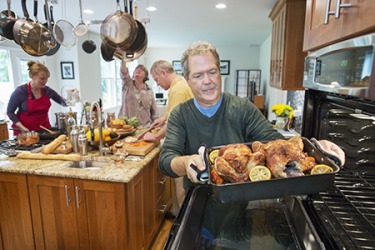 Neil likes to roast a couple of chickens when he hosts his legendary dinner parties.
adjective
The definition of roast is cooked over very high heat with little moisture.

An example of roast used as an adjective is in the phrase roast pork.
noun
Roast is defined as something cooked over very high heat with little moisture, or the act of such a cooking.

An example of a roast is rib beef for Christmas dinner.
verb
Roast means to cook with little moisture, or over very hot heat.

An example of roast is to put chicken in the oven at 400 degrees.
---
roast
to cook (something) with little or no moisture, as in an oven, over an open fire, or in hot embers: to roast a chicken, an ox, an ear of corn, etc.
to dry, parch, or brown (coffee beans, nuts, etc.) by exposure to heat
to expose to great heat
to heat (an ore) in a furnace in the presence of oxygen or air so as to form oxides
to warm (oneself), as at a fireplace

Informal

to criticize severely or ridicule without mercy
Origin of roast
Middle English
rosten
from Old French
rostir
from Frankish an unverified form
raustjan,
akin to Old High German
rosten
from
rost
, gridiron, roast
to roast meat, etc.
to be cooked by being roasted
to be or become very hot
something roasted; esp., roasted meat or a piece of roasted meat
a cut of meat for roasting
a particular type of roasted coffee: a dark roast
a roasting or being roasted
a picnic at which food is roasted and eaten: a steer roast

Informal

severe criticism or ridicule
an entertainment, typically a banquet, at which the guest of honor is the object of good-natured ridicule
---
roast
verb
roast·ed, roast·ing, roasts
verb
transitive
To cook with dry heat, as in an oven or near hot coals.
To dry, brown, or parch by exposing to heat.
To expose to great or excessive heat.
Metallurgy To heat (ores) in a furnace in order to dehydrate, purify, or oxidize before smelting.
Informal

a. To ridicule or criticize harshly.

b. To honor at or subject to a roast.
verb
intransitive
To cook food in an oven.
To undergo roasting.
noun
a. Something roasted.

b. A cut of meat suitable or prepared for roasting.

a. The act or process of roasting.

b. The state of being roasted.

a. Harsh ridicule or criticism.

b. A facetious tribute, as at a banquet, in which the honoree is alternately praised and insulted.
adjective
Roasted: roast duck.
Origin of roast
Middle English
rosten
from
Old French
rostir
of Germanic origin
---
roast

---