rib

rib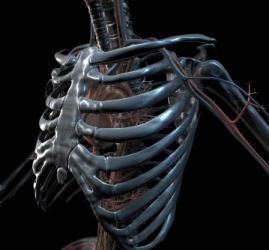 The ribs of a human skeleton.
noun
The definition of a rib is any of the curved bones attached to the spinal column, or a raised ridge in fabric.

An example of a rib is any of the twelve pairs of curved bones that make up the chest cavity in a human.
An example of a rib is the raised ridge of fabric in the knit cuff of a sweater.
verb
To rib means to tease.

An example of rib is to make fun of and share stories about a person at their retirement party.
---
rib
any of the arched bones attached posteriorly to the vertebral column and enclosing the chest cavity: in humans there are twelve pairs of such bones

a cut of meat having one or more ribs
[pl.] spareribs

a wife: in humorous reference to the Biblical creation of Eve from Adam's rib (Gen. 2:21-22)
a raised ridge in cloth, esp. in knitted material
any of the curved crosspieces extending from the keel to the top of the hull in a ship, forming its framework
the structural crosspieces attached to a spar for shaping and strengthening an airplane wing
any narrow riblike piece used to form, strengthen, or shape something: a rib of an umbrella

Archit.

a long curved piece in an arch
any of the transverse and intersecting arches of a vault

Bot.

any of the main veins in a leaf
Origin of rib
Middle English
ribbe
from Old English
rib,
akin to Old Norse
rif,
German
rippe
from Indo-European base an unverified form
rebh-,
to arch over, roof over from source Classical Greek
ereptein,
to crown, Old Church Slavonic
rebro,
rib
transitive verb
ribbed

,

rib′bing
to provide, form, or strengthen with a rib or ribs
to put ribs in; mark with ribs

Origin of rib

prob. < rib-tickler

Slang

to tease or make fun of; kid
---
rib
noun
Anatomy

a. One of a series of long curved bones occurring in 12 pairs in humans and extending from the spine to or toward the sternum.

b. A similar bone in most vertebrates.

A part or piece similar to a rib and serving to shape or support: the rib of an umbrella.
A cut of meat enclosing one or more rib bones.
Nautical One of many curved members attached to a boat or ship's keel and extending upward and outward to form the framework of the hull.
One of many transverse pieces that provide an airplane wing with shape and strength.
Architecture A long, narrow, usually arched member projecting from the surface of a structure, especially such a member separating the webs of a vault.
A raised ridge or wale in knitted material or in cloth.
Botany The main vein or any of the prominent veins of a leaf or other plant organ.
Slang A teasing remark or action; a joke.
transitive verb
ribbed, rib·bing, ribs
To shape, support, or provide with a rib or ribs.
To make with ridges or raised markings.
Informal To tease or make fun of: ribbed my friend about losing the game.
Origin of rib
Middle English
from
Old English
ribb
---
rib

---