ribald

rib·ald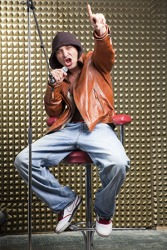 The up and coming rapper frequently shocks his audience with his ribald song lyrics.
adjective
The definition of ribald is something that references sexual matters in a bawdy or humorous way.

An off-color and irreverent comment about sex is an example of something that would be described as a ribald comment.
---
ribald
characterized by coarse or vulgar joking or mocking; esp., dealing with sex in a humorously earthy or direct way
Origin of ribald
Middle English
ribaude
from Old French
ribaud,
debauchee from
riber,
to be wanton from Old High German
riban,
to copulate, literally , to rub from Indo-European an unverified form
wreip-,
to twist from source Classical Greek
rhip?,
a throw, rush, storm
---
ribald
adjective
Characterized by or indulging in humor that is vulgar and lewd.
noun
A vulgar, lewdly funny person.
Origin of ribald
From
Middle English
ribaud
ribald person
from
Old French
from
riber
to be wanton
from
Middle High German
rīban
to rub, be in heat, copulate
from
Old High German; see
wer-
2
in Indo-European roots.
---
ribald

Noun
(plural ribalds)
An individual who is filthy or vulgar in nature.
Origin
From Middle English, from Old French ribaud, ribauld ("rogue, scoundrel") (> French ribaud), from riber ("to be licentious"), from Frankish *rÄ«ben ("to copulate, be in heat", literally "to rub"), from Proto-Germanic *wrÄ«banÄ… ("to turn, twist"), from Proto-Indo-European *werp-, *werb- ("to turn, twist") + Old French -auld, from Old Frankish *-wald. Cognate with Old High German rÄ«ban ("to rub"), Dutch wrijven ("to rub"). Compare also Old High German hrÄ«ba ("prostitute"). More at wrap.
---