noun
The definition of banter is a playful conversation.

Two people joking in a bar about which is the better football team is an example of banter.
verb
Banter is defined as teasing or joking with someone in a friendly way.

The way a musician speaks to their audience between songs is an example of banter.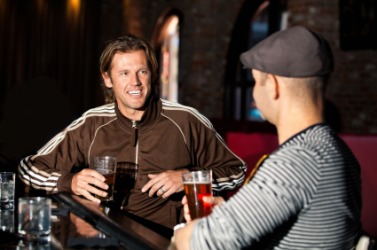 Banter between two friends.
---
banter definition by Webster's New World
transitive verb
to tease or make fun of in a playful, good-natured way
Origin: 17th-c. slang ; from uncertain or unknown; perhaps
intransitive verb
to exchange banter (with someone)
noun
good-natured teasing, ridicule, or joking
Webster's New World College Dictionary Copyright © 2010 by Wiley Publishing, Inc., Cleveland, Ohio. Used by arrangement with John Wiley & Sons, Inc.
---
banter definition by American Heritage Dictionary
noun
Good-humored, playful conversation.
verb
ban·tered
,
ban·ter·ing
,
ban·ters
verb
, transitive
To speak to in a playful or teasing way.
verb
, intransitive
To exchange mildly teasing remarks.
Origin: Origin unknown.
Related Forms: