banter

ban·ter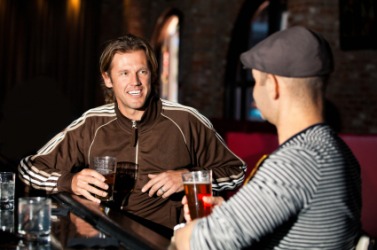 Banter between two friends.
noun
The definition of banter is a playful conversation.

Two people joking in a bar about which is the better football team is an example of banter.
verb
Banter is defined as teasing or joking with someone in a friendly way.

The way a musician speaks to their audience between songs is an example of banter.
---
banter
to tease or make fun of in a playful, good-natured way
Origin of banter
17th-c. slang from uncertain or unknown; perhaps
to exchange banter (with someone)
good-natured teasing, ridicule, or joking
---
banter
noun
Good-humored, playful, or teasing conversation.
verb
ban·tered, ban·ter·ing, ban·ters
verb
intransitive
To engage in banter: bantered with her colleagues during a coffee break.
verb
transitive
To speak to in a playful or teasing way: "She laughed and bantered him a little, remembering too late that she should have been dignified and reserved" ( Kate Chopin )
Origin of banter
Origin unknown
Related Forms:
---
banter

Verb
(third-person singular simple present banters, present participle bantering, simple past and past participle bantered)
Origin
The origin is unknown.
---