scorn

scorn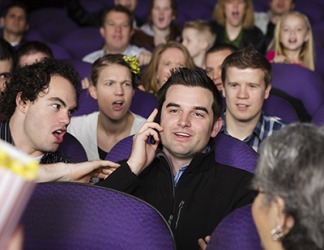 Corey was looked upon with scorn by the people in the theater because he was talking loudly on his cell phone during the movie.
noun
Scorn describes a feeling of contempt for something or someone.

An example of scorn is what a designer clothing snob might feel towards cheap knock-offs.
verb
To scorn is to express a feeling of contempt or disgust for something.

An example of scorn is when you wrinkle of your nose at an ugly outfit.
---
scorn
extreme, often indignant, contempt for someone or something; utter disdain
expression of this in words or manner
the object of such contempt
Origin of scorn
Middle English from Old French
escharn
from
escharnir
, to scorn from Germanic base akin to Old High German
skernon
, to mock,
scern
, a joke from Indo-European base an unverified form
(s)ker-
, to leap, jump about from source Classical Greek
skairein
, to jump, dance
to regard with scorn; view or treat with contempt
to refuse or reject as wrong or disgraceful
---
scorn
noun
a. Contempt or disdain felt toward a person or object considered despicable or unworthy: viewed his rivals with scorn.

b. The expression of such an attitude in behavior or speech; derision: heaped scorn upon his rivals.

c. The state of being despised or dishonored: held in scorn by his rivals.

Archaic One spoken of or treated with contempt.
transitive verb
scorned, scorn·ing, scorns
To consider or treat as contemptible or unworthy: an artist who was scorned by conservative critics.
To reject or refuse with derision: scorned their offer of help. See Synonyms at despise.
To consider or reject (doing something) as beneath one's dignity: "She disapproved so heartily of Flora's plan that she would have scorned to assist in the concoction of a single oily sentence" ( Stella Gibbons )
Origin of scorn
Middle English
from
Old French
escarn
of Germanic origin
Related Forms:
---
scorn

Verb
(third-person singular simple present scorns, present participle scorning, simple past and past participle scorned)
Noun
(countable and uncountable, plural scorns)
(countable) A display of disdain; a slight.
(countable) An object of disdain, contempt, or derision.
Usage notes
Scorn is often used in the phrases pour scorn on and heap scorn on.
Origin
Alteration of Old French escarn (cognate with Portuguese escárnio, Spanish escarnio and Italian scherno).
---