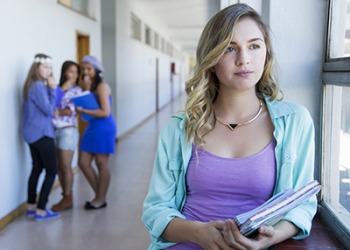 Nora was shunned when she first came to the new school, but then she found a group of friends that she likes very much.
verb
To shun is to ignore, avoid or reject someone or something.

When you continually avoid and ignore someone, this is an example of a situation where you shun that person.
---
shun
transitive verb
shunned

,

shun′ning
to keep away from; avoid scrupulously or consistently, often, specif., as a practice by a group against a co-worker, coreligionist, etc. who has fallen out of favor
Origin of shun
Middle English
schunien
from Old English
scunian
---
shun
transitive verb
shunned, shun·ning, shuns
To avoid using, accepting, engaging in, or partaking of: shun someone's advice; shun public recognition; shun fatty foods.
To refuse to accept socially; avoid having social contact with: "Oddly, by being one of the few players who spoke candidly about the business of baseball, he was often shunned by the business world itself" ( David Grann )
To stay away from; not go to: "He shunned the elevator and started up the broad marble stairs" ( Frederick Irving Anderson )
Origin of shun
Middle English
shunnen
from
Old English
scunian
to abhor
Related Forms:
---
shun

Verb
(third-person singular simple present shuns, present participle shunning, simple past and past participle shunned)
Origin
From Old English scunian. Cognate with Old Norse skunde/skynde ("to hasten").
---