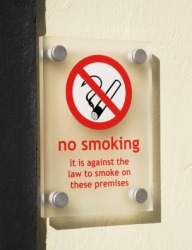 Smoking has been banned in this building.
noun
The definition of a ban is a ruling that forcibly stops something.

A historical example of a ban is Prohibition which stopped the legal sale of alcohol.
verb
To ban is defined as to stop people from doing something.

An example of ban is to allow no cigarette smoking in a restaurant.
---
ban
transitive verb
banned

,

ban′ning
to prohibit, as by official order, from doing, using, appearing, happening, etc.; forbid; censor: to ban fraternities, to ban a book

Archaic

to curse; condemn
Origin of ban
Middle English
bannen
from Old English
bannan,
to summon, proclaim from
ban,
a command from Indo-European base an unverified form
bha-
, to speak: see phono-
in medieval times, a proclamation, esp. an official calling of vassals to arms
an excommunication or condemnation by church authorities
a curse
an official order forbidding something; prohibition
strong public disapproval or condemnation intended to prevent something
a sentence or decree of outlawry
Origin of ban
ME < the v.; also < OFr
ban,
decree < OHG
bann
noun
pl.
ba′ni
a monetary unit of Romania, equal to of a leu
Origin of ban
after
ban,
title of provincial governors of Slavonia
---
ban
transitive verb
banned, ban·ning, bans
a.

To prohibit (an action) or forbid the use of (something), especially by official decree:

banned smoking in theaters; banned pesticides in parks.

See Synonyms at

forbid

.

b. To refuse to allow (someone) to do something, go somewhere, or be a participant; exclude: a coach who was banned from the sidelines for two games; a gambler who was banned from the club.

South African Under the former system of apartheid, to deprive (a person suspected of illegal activity) of the right of free movement and association with others.
Archaic To curse.
noun
An excommunication or condemnation by church officials.
A prohibition imposed by law or official decree.
Censure, condemnation, or disapproval expressed especially by public opinion.
A summons to arms in feudal times.
Archaic A curse; an imprecation.
Origin of ban
Middle English
bannen
to summon, banish, curse
from
Old English
bannan
to summon,
and from
Old Norse
banna
to prohibit, curse
; see
bhā-
2
in Indo-European roots.
noun
pl.
ba·ni,
A unit of currency equal to 1100 of the primary unit of currency in Romania and Moldova.
Origin of ban
Romanian
coin, coin of small worth
perhaps of Germanic origin
and akin to
Old High German
ban
official proclamation, command (the original medieval Romanian coin being so called because coins were necessary to pay fines and feudal dues)
and to
Old English
bannan
to summon
; see
ban
1
.
---
ban

Initialism
British Approved Name
---
ban - Computer Definition
(Body Area Network) A personal wireless network for body-worn sensors. In the U.S., the 2360-2400 MHz frequency band is reserved, and the 2360-2390 range is designated for indoor communications at health care facilities. See wearable computing, WPAN and 802.15.
---