censor

cen·sor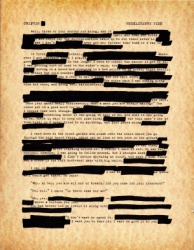 This page has been censored.
noun
The definition of a censor is a person who reads or looks at books, movies or other sources of information and then prevents the release of information that is considered inappropriate.

A person who watches movies and then decides if they are too inappropriate or obscene is an example of a censor.
verb
To censor is to suppress information because you do not like its content.

When you prevent a book from being read in schools because you do not like its content, this is an example of a time when you censor the book.
---
censor
one of two magistrates in ancient Rome appointed to take the census and, later, to supervise public morals
an official with the power to examine publications, films, television programs, etc. and to remove or prohibit anything considered obscene, libelous, politically objectionable, etc.
an official in time of war who reads publications, mail, etc. to remove information that might be useful to the enemy
in earlier psychoanalytic theory, and still popularly, a part of the unconscious that serves as the agent of censorship
Origin of censor
Classical Latin from
censere
, to tax, value, judge from Indo-European base an unverified form
?ens
, speak solemnly, announce from source Sanskrit
?á?sa
, praise, prayer of praise
to subject (a book, film, writer, etc.) to the close examination of a censor
---
censor
noun
A person authorized to examine books, films, or other material and to remove or suppress what is considered morally, politically, or otherwise objectionable.
An official, as in the armed forces, who examines personal mail and official dispatches to remove information considered secret or a risk to security.
One that condemns or censures.
One of two officials in ancient Rome responsible for taking the public census and supervising public behavior and morals.
Psychology The component of the unconscious that is posited by psychoanalytic theory to be responsible for preventing certain thoughts or feelings from reaching the conscious mind.
transitive verb
cen·sored, cen·sor·ing, cen·sors
To examine and expurgate.
Origin of censor
Latin
cēnsor
Roman censor
from
cēnsēre
to assess
; see
kens-
in Indo-European roots.
Related Forms:
---
censor

Noun
(plural censors)
(history) A Roman magistrate, originally a census administrator, by Classical times a high judge of public behavior and morality

The Ancient censors were part of the cursus honorum, a series of public offices held during a political career, like consuls and praetors.

An official responsible for the removal of objectionable or sensitive content

The headmaster is an even stricter censor for his boarding pupils' correspondence than the enemy censors had been for his own when the country was occupied.

(psychology) A hypothetical subconscious agency which filters unacceptable thought before it reaches the conscious
(acronym) Censors Ensure No Secrets Over Radios
Verb
(third-person singular simple present censors, present participle censoring, simple past and past participle censored)
To review in order to remove objectionable content from correspondence or public media, either by legal criteria or with discretionary powers

The man responsible for censoring films has seen some things in his time.

To remove objectionable content

Occupying powers typically censor anything reeking of resistance
Origin
From Latin cēnsor, from censere ("to tax, assess, value, judge, consider, etc.").
---
censor - Legal Definition
v
To officially inspect books, films, letters, newspapers, and other media or methods of communication in order to suppress them or to delete any portions thereof deemed offensive or objectionable for moral, political, religious, or other reasons.
n
A person who censors the media or other methods of communication.
---