verb
To delete is defined as to remove or cancel something.

When you type the letter "x" by mistake and you do not want the letter there so you go back and erase it, this is an example of a time when you delete.
YourDictionary definition and usage example. Copyright © 2013 by LoveToKnow Corp.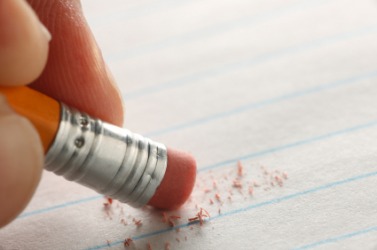 Using an eraser to delete a word.
Licensed from iStockPhoto
---
transitive verb
deleted, deleting
to take out (a printed or written letter, word, etc.); cross out
Origin: ; from Classical Latin deletus, past participle of delere, to blot out, destroy ; from de-, from plush base of linere, to daub, rub over (writing on a wax table with the blunt end of the style) ; from Indo-European base an unverified form lei-, viscous, smooth from source lime
Webster's New World College Dictionary
Copyright © 2010 by Wiley Publishing, Inc., Cleveland, Ohio.
Used by arrangement with John Wiley & Sons, Inc.
---
transitive verb
de·let·ed
,
de·let·ing
,
de·letes
To remove by striking out or canceling:
deleted some unnecessary words in the first draft.
See Synonyms at
erase
.
Origin: Latin dēlēre, dēlēt-, to wipe out.
The American Heritage® Dictionary of the English Language
, 4th edition Copyright © 2010 by Houghton Mifflin Harcourt Publishing Company. Published by Houghton Mifflin Harcourt Publishing Company. All rights reserved.
---
delete - Computer Definition
Computer Desktop Encyclopedia
THIS DEFINITION IS FOR PERSONAL USE ONLY
All other reproduction is strictly prohibited without permission from the publisher.
© 1981-2014 The Computer Language Company Inc. All rights reserved.