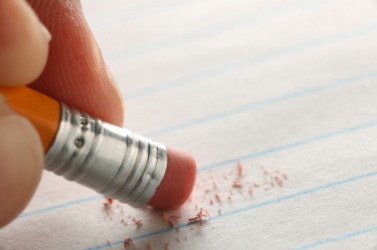 Using an eraser to delete a word.
verb
To delete is defined as to remove or cancel something.

When you type the letter "x" by mistake and you do not want the letter there so you go back and erase it, this is an example of a time when you delete.
---
delete
transitive verb
-·let′ed

,

-·let′ing
to take out (a printed or written letter, word, etc.); cross out
Origin of delete
from Classical Latin
deletus
, past participle of
delere
, to blot out, destroy from
de-
, from + base of
linere
, to daub, rub over (writing on a wax table with the blunt end of the style) from Indo-European base an unverified form
lei-
, viscous, smooth from source lime
---
delete
transitive verb
de·let·ed, de·let·ing, de·letes
a. To cancel, strike out, or make impossible to be perceived: deleted the expletives from the transcript with a marker.

b.

To remove from a document or record:

deleted the names from the computer file.

See Synonyms at

erase

.

To remove (a file, for example) from a hard drive or other storage medium.
Origin of delete
Latin
dēlēre
dēlēt-
to wipe out
---
delete

---
delete - Computer Definition
---