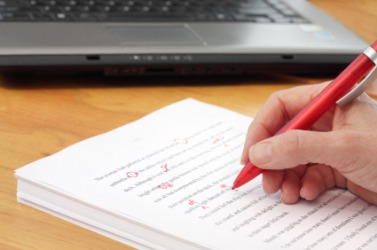 A paper being edited.
noun
The definition of an edit is a change made to something before a final copy is submitted.

An example of an edit is a corrected comma splice on a paper before it is handed in to the professor.
verb
Edit is defined as to prepare something for publication or final copy by removing errors and extra words.

An example of to edit is to check a paper for grammatical and structural mistakes before submitting it to a professor.
---
edit
to prepare (an author's works, journals, letters, etc.) for publication, by selection, arrangement, and annotation
to revise and make ready (a manuscript) for publication
to supervise the publication of and set the policy for (a newspaper, periodical, reference book, etc.)
to prepare (a film, tape, or recording) for presentation by cutting and splicing, dubbing, rearranging, etc.
to make additions, deletions, or other changes in (a computer file)
Origin of edit
back-formation from editor
Informal
an act of editing:
a cut made in the edit
edited (by)
edition
editor
---
edit
transitive verb
ed·it·ed, ed·it·ing, ed·its
a. To prepare (written material) for publication or presentation, as by correcting, revising, or adapting.

b. To prepare an edition of for publication: edit a collection of short stories.

c. To modify or adapt so as to make suitable or acceptable: edited her remarks for presentation to a younger audience.

To supervise the publication of (a newspaper or magazine, for example).
To assemble the components of (a film or soundtrack, for example), as by cutting and splicing.
To eliminate; delete: edited the best scene out.
noun
An act or instance of editing: made several last-minute edits for reasons of space.
Phrasal Verbs:
edit in
To insert during the course of editing:
An additional scene was edited in before the show was aired.
edit out
To delete during the course of editing:
A controversial scene was edited out of the film.
Origin of edit
Partly back-formation from
editor
and partly from
French
éditer
to publish
(
from
Latin
ēditus
) (
past participle of
ēdere
) (
ē-, ex-
ex-
) (
dare
to give
; see
dō-
in Indo-European roots.)
---
edit

---
edit - Computer Definition
(1) To make a change to data. The terms edit and "update" are used synonymously. See edit menu and update.
(2) (Edit) A text editor in DOS and the 32-bit versions of Windows. It is used to create batch files and other lists of text. Typing Edit on the command line launches the program. See batch file abc's.
---