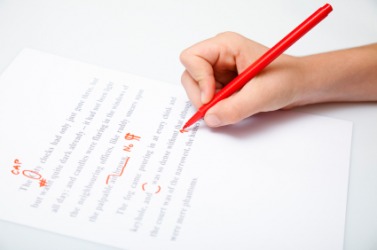 This paper is getting a bit of red-pencil.
verb
To red-pencil is to delete or edit something as if you had a red editing pencil.

An example of red-pencil is to cut a project that your company has worked on but not yet completed.
---
red-pencil
-·ciled

or

-·cilled

,

-·ciling

or

-·cilling
to edit or revise with or as if with a pencil having red lead
---
red-pencil
transitive verb
red-pen·ciled
,
red-pen·cil·ing
,
red-pen·cils
also
red-pen·cilled
or
red-pen·cil·ling
To censor, cut, revise, or correct with or as if with a red pencil.
---
red-pencil
Verb
(third-person singular simple present red-pencils, present participle red-penciling, simple past and past participle red-penciled)
to correct written documents.
---