pencil

pen·cil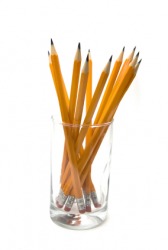 Pencils in a glass.
noun
The definition of a pencil is a narrow tube-shaped instrument filled with graphite or colored wax that is used for writing and drawing.

An example of a pencil is what a student uses for answering questions on a test.
verb
Pencil is defined as to draw or write with an instrument that produces marks which can be erased.

An example of pencil is to enter an appointment on a calendar that might have to be erased if the appointment is rescheduled.
---
pencil
Archaic

an artist's small, fine brush
the individual style or ability of an artist
a slender, rod-shaped instrument of wood, metal, etc. with a center stick of graphite, crayon, etc. that is sharpened to a point for marking, writing, and drawing
something shaped or used like a pencil; specif.,

a small cosmetic stick as for darkening or redrawing the contours of the eyebrows
a stick of some medicated substance: a styptic pencil

a series of lines or rays coming to or spreading out from a point

Math.

a set of lines, planes, etc. passing through a given point or points and satisfying a given equation, as

all the lines passing through a given point
all the planes passing through a given line
all the circles lying in a given plane and passing through two fixed points
Origin of pencil
Middle English
pencel
from Middle French
pincel
from Vulgar Latin an unverified form
penicellus
from Classical Latin
penicillus,
a brush from diminutive of
penis,
a tail, penis: mod. sense and form influenced, influence by pen
transitive verb
-·ciled

or

-·cilled

,

-·cil·ing

or

-·cil·ling
to mark, write, or draw with or as with a pencil
to use a pencil on

Origin of pencil

metaphoric extension: from being easy to erase to schedule or assign provisionally: with in: she penciled him in for dinner next week
---
pencil
noun
A narrow, generally cylindrical implement for writing, drawing, or marking, consisting of a thin rod of graphite, colored wax, or similar substance encased in wood or held in a mechanical holder.
Something shaped or used like a pencil, especially a narrow medicated or cosmetic stick: an eyebrow pencil.

a. A style or technique in drawing or delineating.

b. Descriptive skill: "His characters are drawn with a strong pencil" ( Henry Hallam )

c. An artist's brush, especially a fine one.

Physics A beam of radiant energy in the form of a narrow cone or cylinder.
Mathematics A family of geometric objects, such as lines, that have a common property, such as passage through a given line in a given plane.
transitive verb
pen·ciled, pen·cil·ing, pen·cils,
also
pen·cilled
pen·cil·ling
To write or produce by using a pencil.
To mark or color with or as if with a pencil.
Phrasal Verbs:
pencil in
To schedule tentatively:
penciled in a staff meeting for 3:00.
To schedule a tentative appointment with:
penciled him in for lunch next Monday.
pencil out
To calculate or estimate (projected profits and losses or other figures):
penciled out the likely sales for the new product.
To appear likely to be of sufficient benefit to justify the projected costs:
rejected the proposed merger because it failed to pencil out.
Origin of pencil
Middle English
pencel
artist's brush
from
Old French
pincel, peincel
from
Vulgar Latin
pēnicellus
alteration of
Latin
pēnicillus
diminutive of
pēniculus
; see
pes-
in Indo-European roots.
diminutive of
pēnis
tail, brush
; see
pes-
in Indo-European roots.
Related Forms:
pen′cil·er pen′cil·ler

noun
---
pencil

Noun
(plural pencils)
1603, John Florio, translating Michel de Montaigne, Essays, II.17:

why is it not lawfull for every man to pourtray himself with his pen, as it was for him to doe it with a pensell?

Writing utensil that uses graphite (commonly referred to as lead). Regular pencils usually have a graphite shaft surrounded by wood. Also available in a mechanical version where the graphite length can be adjusted and sharpening is not needed.
(geometry) A family of geometric objects with a common property, such as the set of lines that pass through a given point in a projective plane.
(optics) An aggregate or collection of rays of light, especially when diverging from, or converging to, a point.
Verb
(third-person singular simple present pencils, present participle Commonwealth pencilling, US penciling, simple past and past participle Commonwealth pencilled, US penciled)
to write something using a pencil

I penciled (BrEn: pencilled) it in my notebook.

To tentatively make a booking or appointment.

I am very busy today but I can pencil you in at 3 p.m.
Origin
From Anglo-Norman and Old French pincil (modern pinceau ("paintbrush")), from Latin diminutive peniculus ("brush"), from noun penis ("tail") + diminutive suffix -culus.
---